Virtual Food Drive
"Mainers Helping Mainers: Naturally Good"
Virtual Food Drive
Donate to GSFB and earn a chance to win an AMAZING PRIZE of Maine products worth over $1600!! The prize includes: Seaweed products from Ocean's Balance; GrandyOats Granola; Luke's Lobster Gift Card; Drinking Chocolate & Chocolate Bars from NibMor; Merch & Coupons from Wyman's; Stonewall Kitchen Jams, Pasta & Sauces; Gelato Fiasco Gift Card; A large Sea Bags Tote Bag; Seaweed & Teriyaki Scallops from My Fish Dish (Bristol Seafood), Merch & Gift Card from Maine Beer Company; Coupons (lots!) for Scott & Jon's Premium Shrimp Bowls; Simmer Pizza and Garlic Sauces; and a mouth-watering Almond Bundt Cake from Cakes for All Seasons. You'll also win a beautiful Maine Historical Flag donated by Maine Center for Entrepreneurs. *EVERY $10 YOU DONATE IS WORTH 1 VIRTUAL RAFFLE TICKET. $100 IS WORTH 11 TICKETS!* Winner will be announced June 5th. Together, we can make a huge difference for Maine's food insecure. Thank you!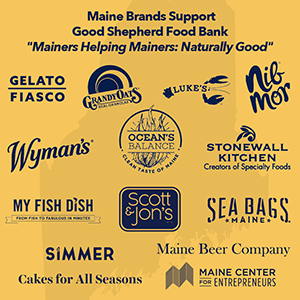 1. Browse through the aisles and select items to help feed Maine families
Packaged Groceries
Fresh Maine Produce
Eggs, Dairy & Meat
Food Bank Operations
Children & Families
2. Click items below to add to your Shopping Cart »
Canned vegetables 12 cans $7.00
Canned fruit 12 cans $9.00
Tomato sauce 12 large cans $8.50
Peanut butter 6 jars $5.50
Cheese (Maine) per lb. $3.00
Ground chicken 10 lbs. $10.00
Chicken (canned) 12 cans $8.75
Tuna (canned) 12 cans $8.00
Hot dogs (turkey) 8 lbs. $7.00
Warehouse supplies Boxes, bags, tape, cleaning products $100.00
Refrigerated truck Half tank fuel $225.00
Stock School Pantry 400 meals $100.00
Sponsor participant 6-week Cooking Matters class $150.00
Sponsor participant Cooking Matters grocery store tour $20.00
Sponsor child in BackPack program for school year $225.00
Stock Food Mobile high-need community distribution $250.00
Total Donation:
You will be able to adjust the total or specify your desired donation amount at checkout.
12 Donations Received
$150 was donated
by Julia Brown
2 days ago
$10 was donated
by Kathryn Chesney
2 days ago
$10 was donated
3 days ago
$100 was donated
by Tina Oddleifson
3 days ago
$200 was donated
by Emily Gherman-Lad
3 days ago
$100 was donated
by Audrey Lones
4 days ago
$100 was donated
by Janine Cary
4 days ago
$100 was donated
4 days ago
$50 was donated
by MARK GROHMAN
4 days ago
$100 was donated
by Marilyn Berry
4 days ago
$50 was donated
by Ellen Murphy
4 days ago
$40 was donated
by Davis Robinson
4 days ago