Cupboard Collective
CUPBOARD COLLECTIVE is a cooperative food transportation
program that serves pantries faced with transportation barriers
accessing food — often in rural areas of the state. The program
builds partnerships between Good Shepherd Food Bank, our
partner agencies, and their town governments to provide largescale
deliveries of food two times per month on refrigerated
trucks.
Many food pantries are experiencing increased need and decreased supply. Less
visible than the food needed to fill pantry shelves is the transportation needed to safely
move available nutritious, often perishable food from the Food Bank to our partnering
food pantry shelves. Lack of transportation is a common and significant barrier for
emergency food providers in Maine's outlying communities, often affecting the
quantity and quality of food that our pantry partners can provide to the hungry families
they serve.
Cupboard Collective is an attempt to bridge that gap. And it's working!
COMMUNITY IMPACT
IN 2014, CUPBOARD COLLECTIVE safely delivered 450,000 lbs of food including
108,000 lbs of nutritious produce to its partner agencies!
PROGRAM GROWTH
CUPBOARD COLLECTIVE started 2014 serving 14 agencies and school pantries in 8
sponsored communities. By the end of the year, Cupboard Collective's reach grew to 28
agencies and school pantries in 19 communities.
This video documents the Cupboard Collective in its pilot year. Watch our slide show to see how the program has grown at Good Shepherd Food Bank!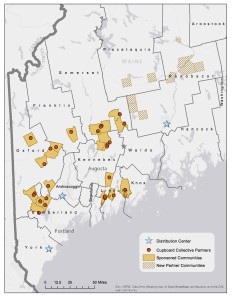 This map shows all Cupboard Collective partner agencies, and
illustrates the reach of this rural food access program.
LOOKING FORWARD
2014 WAS A HISTORIC YEAR for Cupboard Collective, the pantries we serve, and the
families they feed. And 2015 has seen growth and expansion that will bring our
refrigerated trucks into 10 new communities.
Towns and pantries report that the program is indispensable in helping them meet the
need for their food insecure families. We are continually identifying new regions of the
state where pantries have a demonstrated need for Cupboard Collective.
Download the Cupboard Collective 2014 Annual Report
For more information, contact:
Scott Hamann
Cupboard Collective Program Manager
shamann@gsfb.org
(207) 520-7097