Thanks to the generosity of Shaw's Supermarkets, the Food Bank recently opened two new Kids Café sites to reach children facing hunger. We are now providing healthy snacks & meals to kids at Oxford School Age Child Care & Preschool and Tree Street Youth Center in Lewiston.
Kids Café is an afterschool program that helps get free and healthy meals to low-income children and provides monthly nutrition education lessons. After a very successful year with a pilot Kids Café at Mission Possible Teen Center in Westbrook, the Food Bank was eager to expand to new sites.
Recently I had the opportunity, along with Shannon Coffin, the Food Bank's Program Manager, to go volunteer for an afternoon at one of the new sites, Tree Street Youth in Lewiston.  In one afternoon we were reassured that all of our hard work to expand child hunger programs in Maine was necessary and important.
Shannon and I were outside playing jump rope with a few of the children when a little girl asked us if we were Bates students, as many of their volunteers are from the college. We said no and that we were from Good Shepherd Food Bank. She asked us what we did and we told her that we worked to make sure that kids in Maine have healthy food available and know about good nutrition. She looked at us and without missing a beat asked, "Is there food where you work?"
We told her that there was lots of food where we work and she replied, "I wish I could go there. I am so hungry." We looked at each other for a moment, not quite knowing how to respond. Finally we replied, "Well, we're going to have to do something about that."
The little girl then asked where our work was and we told her it was in Auburn. She said, 'I don't know if I can get to Auburn." Thanks to the generosity of Shaw's and the leadership role they have taken in funding the Kids Café program, we were able to tell her that we were going to start bringing the food right to her at Tree Street Youth where she comes to play and work on her homework every day after school.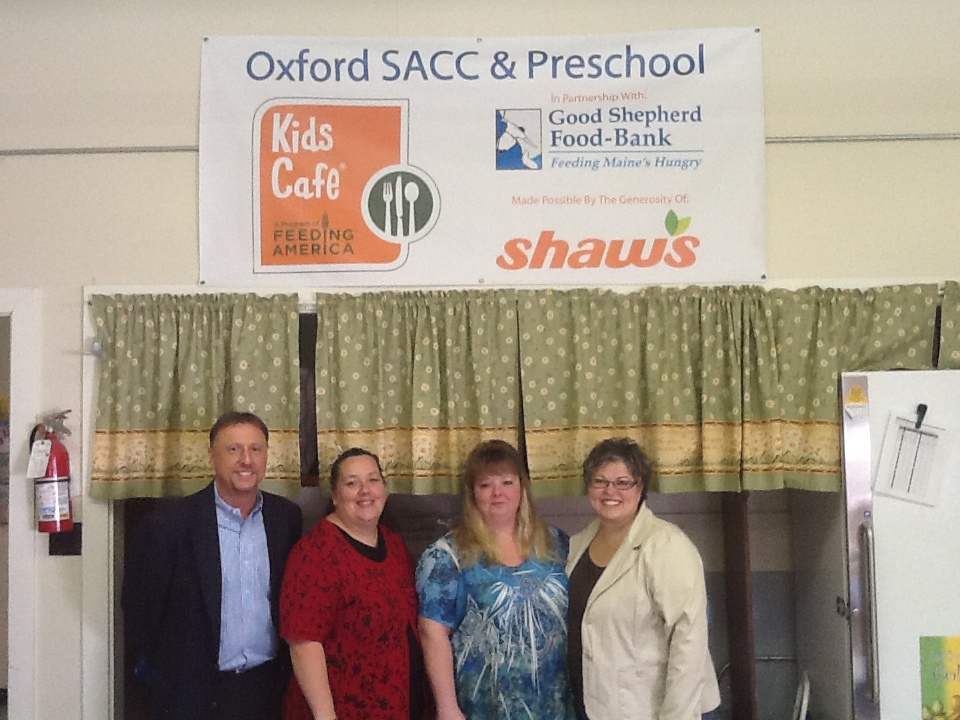 Staff from Oxford School Age Child Care & Preschool
pose with the Store Director from Shaw's in Lewiston
after launching the new Kids Cafe site.

← Back to Latest News