By Madelyn Holm, Feeding America Child Hunger Corps Member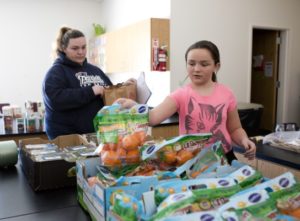 Over the summer, the Kellogg's Foundation awarded Good Shepherd Food Bank an expansion grant to open five new School Pantry sites to increase access to nutritious foods, encourage healthy eating habits, and connect families in under-served communities to resources around nutrition. Our target area for the expansion was Washington County. In this county alone, 1,700 children are considered food insecure, meaning they do not have reliable access to adequate or nutritious food. These statistics, coupled with high poverty rates and food costs 30% higher than the national average, mean Washington County is an incredibly vulnerable area of the state in need of program expansion. With the help of the Kellogg's Foundation Grant, we are now able to reach five additional schools where more than 70% of students are eligible for food assistance.
Last month, the Food Bank's Child Hunger Team piled into the car, drove for hours into rural Maine, and visited the five schools to set up new School Pantry sites. While there were many examples that highlighted the struggle of families living in this area, the visit to East Grand Community School stands out as a reminder of the reality of rural hunger. ​​
At the K-12 school in Danforth Maine, our team heard a story about a kindergartner and his first experience eating an apple. At 5 years old, this little boy had never bitten into the skin of a fresh, juicy apple. He was walking through the lunch line and paused in front of the basket of apples. Baffled by the red shiny fruit, the lunch lady told him what it was and asked if he wanted to give it a try. Intrigued, he took one back to his table. Within a few minutes the apple vanished and the little boy went running back to the line for another.
When we told the lunch ladies, who would be running the new pantry program, that their orders would include fresh produce, including apples, both of them nearly burst into tears. The little five year old was only one of hundreds of stories these women had about the lack of access to fresh, nutritious foods.
Keeping groceries stocked in rural areas like Danforth is difficult. Produce trucked into rural areas is usually unreliable, past its prime, and incredibly expensive. The head of iceberg lettuce on the shelf isn't from down the street, it's from California. By the time it makes it to the store it's already wilted. Stores don't keep items stocked it they go bad before customers have a chance to purchase them. This means stores in rural areas have less produce and other nutritious perishable items. The USDA has defined areas like Washington County, where there is low access to nutritious foods and high rates of poverty, as Food Deserts. Being able to reach these vulnerable populations with nutritious food is crucial to stabilizing communities throughout Maine.
With the help of The Kellogg's Foundation and Good Shepherd Food Bank these communities now have access to produce grown by local farmers, something that was previously out of reach. In the past month of operation, the five schools in our expansion program have delivered almost 6,000 meals students and their families. We are excited to see these sites grow and distribute many more meals.