By Courtney Kennedy, Nutrition & Education Manager
March is National Nutrition Month! The Food Bank is taking this opportunity to share resources with our partner agencies around nutrition and healthy eating, so we thought we'd share with our wider community of supporters, as well.
Nutrition plays an important role in ending hunger in Maine. Providing food pantry patrons with nutritious foods helps support overall well-being, so families can eat balanced meals, kids can learn and grown, and adults can be healthy and productive.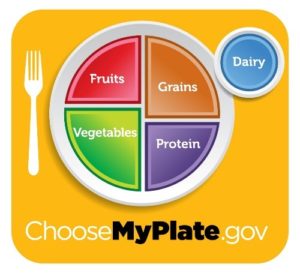 A good place to start when learning about nutrition is MyPlate. This simple tool illustrates the five food groups that are the building blocks of healthy eating using a familiar image – a plate. When you look at MyPlate, you'll notice that half of the plate is comprised of fruits and veggies. Why is that? Because they contain essential vitamins, minerals, and fiber to help our bodies grow, repair, and fight diseases.
Making half your plate fruits and veggies at each meal might seem like a big leap. And surely, we're not all going to meet this goal every day. But here are a few simple ways to get started and increase your fruit and veggie intake.
Breakfast:
Top your whole grain cereal with fresh, frozen or unsweetened dried fruit.
Add a handful of chopped veggies to your eggs. Try peppers, onions, or mushrooms.
Mash a banana and add to oatmeal.
Make pineapple carrot muffins (my favorite). These also make a great snack. http://cookingmatters.org/recipes/pineapple-carrot-muffins
Lunch:
Top your sandwich with lettuce and tomato. Try spreading avocado on the bread instead of mayonnaise.
Add spinach to your soups or your whole wheat pasta dishes.
Top your yogurt with fresh, frozen or unsweetened dried fruit.
Dinner: