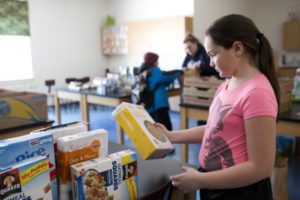 As the 2015-2016 school year comes to a close, Good Shepherd Food Bank's Child Hunger Team is extending a sincere thank you to our School Partners for the time, energy, and compassion they have invested to make the BackPack and School Pantry programs available in their communities. With their help, the Food Bank has served more than 3,000 families more than 450,000 meals since September 2015.
Every single one of our programs is award-worthy. Still, our Child Hunger Team presents (for the very first time) its annual School Partner Awards to the schools that have shined in the following categories this school year. Please join us in congratulating them on their accomplishments!
Veggiedictorian Award – Mt. View Schools, Thorndike
During the 2015-2016 School Year, Mt. View Schools, led by Food Service Director Allison Daugherty, distributed a total of 10,819 lbs of fresh fruits and vegetables to their students, giving them the highest GPA (Great Produce Accessibility) in our network of school programs!
Meat-ing The Need Award – Longley Elementary School, Lewiston
Longley Elementary School 'butchered' all previous protein distribution records, distributing more than 6,000 lbs of meat to students and their families. Congratulations to the staff and volunteers at Longley for having the chops to make this happen!
'Tote'al Meals Distributed – Livermore Elementary School
Livermore Elementary School had their first full year operating the School Pantry program, and proved they are skilled at filling up those grocery totes! Congratulations to Kevin Harrington, Farrah Poirier, and all of the dedicated staff and volunteers at Livermore Elementary School for distributing over 18,000 meals this school year.
Most Egg-cellent Network Engagement Award – Van Buren Elementary School
When the Child Hunger Team is looking for a coordinator willing to share what they've learned, Dana Michelle LaPlante has been our go-to supporter! From always being willing to chat with a fellow coordinator one-on-one, to being one of our first webinar presenters, her contributions to the conversation about child hunger and what schools can do about it can be seen in Van Buren and beyond.
Top Shelf Innovator Award – Locker Project, Portland
This school year, a new partner sprung from the loading dock to unpack some very big ideas. Congratulations to Katie Brown and the volunteers of the Locker Project for stocking up a new nonprofit with amazing leaders and a shared vision that resulted in 5 new School Pantries joining the network this year alone.
Frequent 'Flyers' Outreach Hero – W.G. Mallet School, Farmington
If you live in the Farmington area, Katie Hallman and Leslie Thistle from W.G. Mallet School have most likely made contact with you to make sure you know how to get food from their school pantry. From flyers and signs to enlisting the help of the local paper, this school has outdone itself when it comes to outreach!
FIFO (Friends In/Food Out) Volunteerism Award – Strategies for a Stronger Sanford
The more friends supporting a school pantry, the more food it can distribute to those in need. When it comes to making friends, Strategies For A Stronger Sanford has been voted most likely to succeed this school year. From volunteer recruitment to recognition and incentivizing, the results of their efforts resulted in outstanding participation in the Sanford School District this year.
Rural Access Rockstar – Southern Aroostook Community School, Dyer Brook
Southern Aroostook Community School serves families from 12 different towns – many of which do not have local food pantries within an easy commute. Jessica Walker and her team are committed to these communities – whether they have students that attend the school or not. In addition to their school day distributions, they volunteer personal time to open up the school pantry after hours for anyone who needs help.
Round Table Award – Area Interfaith Outreach, Rockland
It is unlikely that anyone living in Knox County has not heard from Sherry Cobb of AIO regarding her Weekend BackPack Program. When she started the program in 2015, Sherry wanted as much advice as possible and regularly tapped into the network of school programs and partners around the state. Now, one year into the program, she is advising others. Serving 225 students a week at schools in Knox County and beyond is no small feat and Sherry has done a fantastic job rounding up volunteer support, creating outreach materials, speaking with schools, and bringing different voices to the table. Congratulations AIO on an incredible first year of BackPack Program!
Weekend Hunger Warriors – Bath BackPack Program
If you've ever met the members of the Bath BackPack Team, you know that their passion and dedication to serving students in their community is nothing short of inspirational. This small troop stepped up to fight the meal gap over weekends and school vacations at three schools in 2016, helping combat hunger for 85 families. From organizing volunteers to pack and deliver bags to outreach with each and every school, there is nothing this group hasn't done to make sure the students and working families in their communities receive the support they need.
Thank you to all of our School Partners! Together we're ending child hunger in Maine.