By Ryan Fecteau, Communications & Marketing Coordinator
This particular August morning had a crisp temperature and scent. As the sun climbed over the trees lining Route 5, summer weather slowly reemerged. Little did I know the ladies I was about to meet could easily challenge the sun's warmth. Eight women at Applewood Apartments in East Waterboro, an Avesta Housing property for low-income seniors who are 62 or older, would soon gather in the community kitchen.
Cooking Matters, a program of Good Shepherd Food Bank, offers hands-on cooking and nutrition classes in all 16 counties through a partnership with Maine SNAP-Ed. In addition, Harvard Pilgrim Health Care Foundation's 'Healthy Food Every Age' grant provided the funding for these classes at Applewood. Nicole Jumper, SNAP-Ed Nutrition Educator and HIPAA Training Coordinator, unpacked ingredients and supplies for what would be the second class at Applewood. She set fresh produce on the counter and turned on the oven to pre-heat.
Annette arrived first. She had a birthday card for fellow participant Ramona and wanted others to sign it. As Nicole leaned across the table to sign the card, Annette offered some light hearted talk about community chatter. She said some were discussing the class earlier in the week. One person asked, "What will we make this week?" Annette recalled with a smile, "I said I don't know, but whatever it is, it's going to be good."
Annete's prediction proved right. The tabbouleh and Moroccan carrot salad prepared by the women offered vibrant flavors with nutritional value. And it is the nutritional aspect of the meal that serves as the foundation for a Cooking Matters course. Prior to chopping the first carrot, Nicole offered the class food knowledge. The tabbouleh's main ingredient was bulgur, a type of grain. Many in the class had never heard of bulgur. Nicole outlined the importance of whole grains and being sure to check ingredient labels for those very words. It was a lesson important to the group of seniors concerned about their health.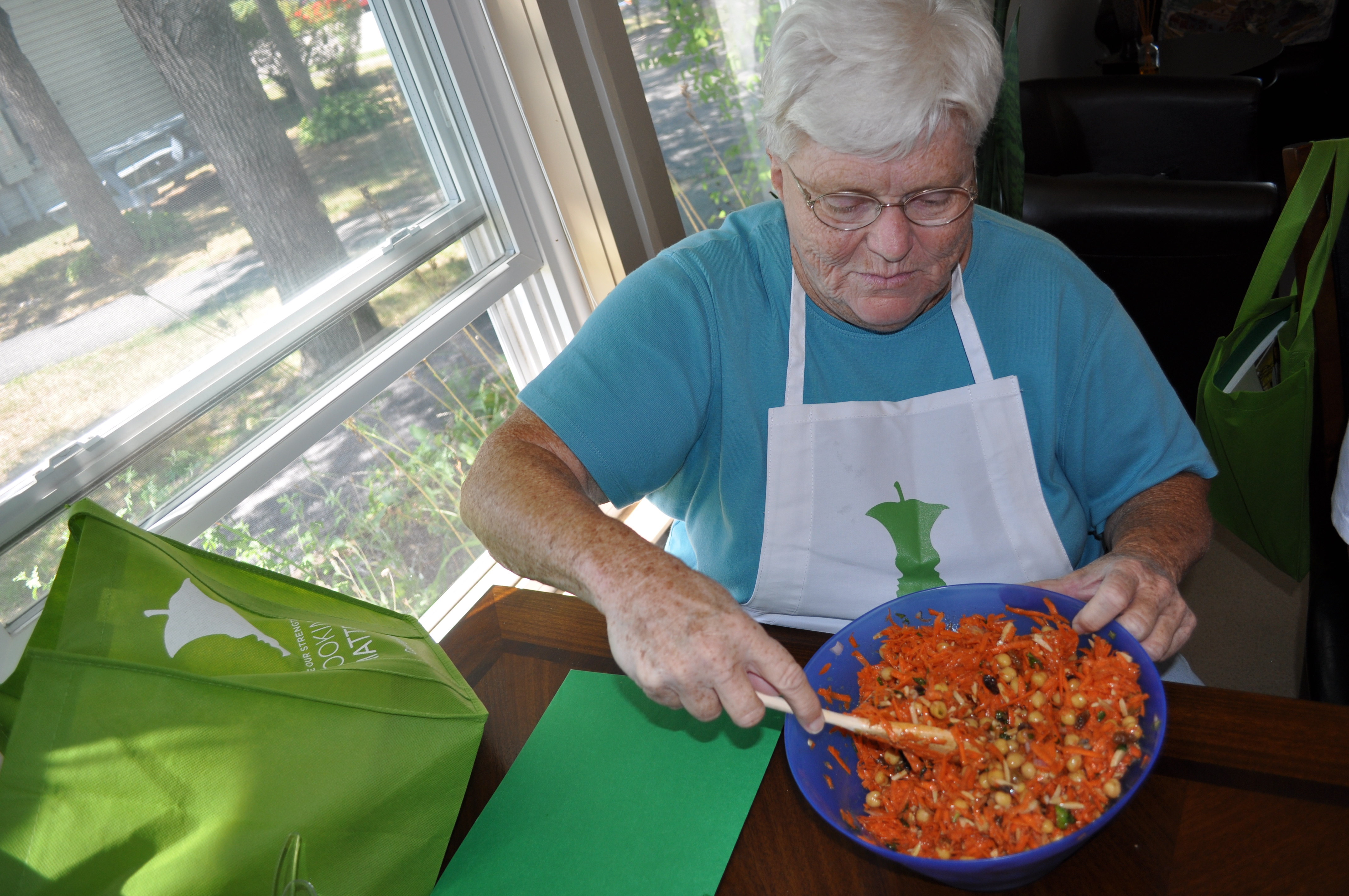 "It definitely changes the way we shop," shared Ramona. "We look at labels more [at the grocery store] and we get a whole lot of [shopping] tips."
Courtney Kennedy, Nutrition and Education Manager at the Food Bank, reinforced the lesson with a demonstration. She poured orange juice into a baking sheet and then placed two slices of bread. One slice was whole grain and the other was not. She asked, "What do you think will happen?" The class offered some astute guesses. Courtney picked up the whole grain slice and it remained fully intact. She lifted the other slice and it instantly fell apart.
These lessons provide Cooking Matters participants with nutritional facts, best cooking practices, and introductions to new foods which, in turn, inform their decisions in the grocery store and in their own kitchens. Learning new things about cooking is not bound to one's age. The seniors at Applewood were as open to new ideas as a rookie chef would be. According to Annette, in some cases, they were relearning things that they forgotten over the years.
The tabbouleh and Moroccan carrot salad was ready. Everyone gathered at the table and praised the results. Martha, who has lived at Applewood for two years, said she would definitely make the tabbouleh at home. Of course, since Cooking Matters participants receive the ingredients needed to prepare the meal at home, Martha would be able to give the tabbouleh another shot without any expense. I put my fork down and asked the group what they might say to someone unsure about taking part in a Cooking Matters course. There were some great responses, but I thought Candy summarized it best.
"We would say, 'Come join us,'" offers Candy. "It's a lot of fun and you learn a lot."
It is this kind of welcome from the seniors at Applewood that turned a cool morning into a warm afternoon of laughter, learning, cooking, and of course, eating!