Guest post by Robert Crone, Director of Nutrition Services, Eastern Area Agency on Aging
Hunger is a serious threat facing thousands of seniors in Maine. Seniors are hungry everywhere in our region. According to Good Shepherd Food Bank, not one community among all of Maine's cities and towns is spared, and it's a problem that affects both rural and urban areas. Imagine what it would be like to have worked hard all your life only to discover your life filled with hunger and health problems related to poor nutrition. It would be a pretty disappointing way spend your golden years.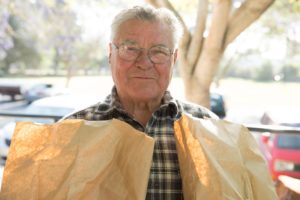 The traditional way of addressing the problem is to try to fill the meal gap, which is estimated to be as high as 11 million meals a year in Maine, by providing more meals. This state is blessed with many outstanding organizations that are attempting to do just that, but it is a daunting task. A complementary approach to the problem is to reduce the meal gap by finding ways to make more of a senior's money available for food. This is where the State's Area Agencies on Aging can help.
Eastern Area Agency Aging provides services to seniors in a 13,000 square mile area of eastern Maine, including Hancock, Penobscot, Piscataquis and Washington counties. EAAA is one of five agencies operating in Maine. In addition to traditional nutrition programs like Meals on Wheels & Congregate Meals sites, all five of these Area Agencies on Aging have highly trained staff with expertise in assisting seniors with understanding and enrolling in benefits that can free up money for food. For example, the State Health Insurance Program (SHIP) helps seniors sign up for the most cost effective prescription drug programs. Other services such as a benefits checkup and EAAA's Food Insecurity Solutions program focus on finding ways to assist seniors in finding both financial benefits and food resources.
Maine's Area Agencies on Aging and community food cupboards can also partner to offer a more holistic approach to senior food security than either organization can do on its own. For example, EAAA partners with the Lincoln Food Cupboard to distribute senior commodity food boxes, offer furry friends pet food support and deliver food packages to seniors' homes. EAAA also has a program called Elder Buddies that in some locations can bring the consumer to the food cupboard or grocery store. Good Shepherd Food Bank's network of food cupboards often reach a different population of seniors than the AAAs, whose funding is limited and often restricted to homebound clients or a specific geographic location. By working together and offering seniors referrals to services, the combined efforts will not only reach more people, but also facilitate access to programs and services that make more of a senior's dollars available for food.
To help seniors in your area, contact your local pantry or Area Agency on Aging. Maine's Area Agencies on Aging each have their own headquarters and staff to service the planned service area, but contacting the correct agency is easy. Call (877) ELDERS1 from anywhere in the state and you will be routed to the appropriate agency.