Letter From the Food Bank
Dear Friend,

With the holiday season approaching, I'm thankful for what we have accomplished this past year. Working together, we have provided meals and support throughout our communities.

Even as I celebrate all we've done, I know this important work is far from over. Mainers continue working to make ends meet despite higher costs and the elimination of pandemic-era SNAP benefits that buoyed many households. Some Mainers may be dealing with job loss or a cut in wages, living on a fixed income, or faced with an unforeseen expense.

But thanks to friends like you who support Good Shepherd Food Bank, families in our communities can have reliable access to nutritious food this holiday season — and beyond!

When friends and families gather around their dinner tables this holiday season to give thanks, it is so much more than a meal. It's a reminder that each of us is cared for and part of a community. There is no more important message in this world.

Please read through this edition of Helping Hands and see the difference you're making for Mainers. Your support helps provide meals for families and support for programs that help create a future where all Mainers are food secure. Thank you!

With thanks,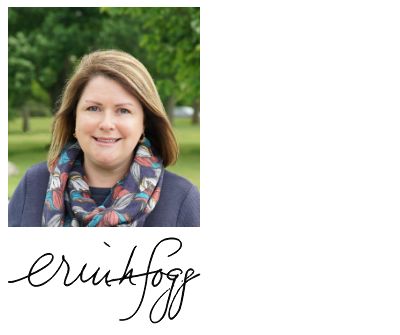 Erin Fogg,
VP of Development & Communications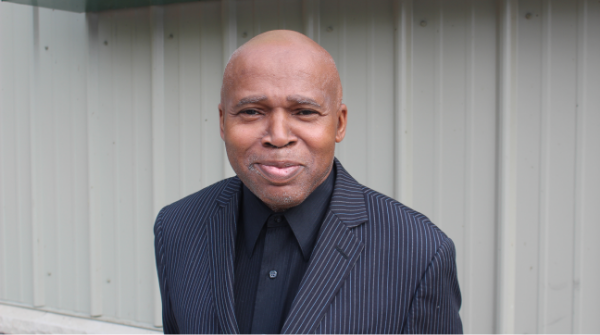 "This Is a Place of Hope"
John spends most of his days helping others succeed in life. Even in his career as a job placement specialist, he helps others carve out a better future for themselves.

In John's work, he helps people living below the poverty line break down barriers to a better life. Part of that includes a stop each week at Augusta Food Bank.

"I like to help others, so I come here to get food for people who have no vehicles and no way here," John says. "You have to be here for your brothers and sisters — your fellow Mainers. You have to do your part."

John says the food he is able to pick up means so much for so many families. He says many people take basics like food for granted, but to the families he helps, it's everything.

"If you don't eat, everything falls by the wayside," John shares. "You can't think. You have no energy. It's essential for the brain and body."

The holidays are a time for hope and helping others! Team up with Good Shepherd Food Bank and with helpers like John, and make a difference for Maine neighbors.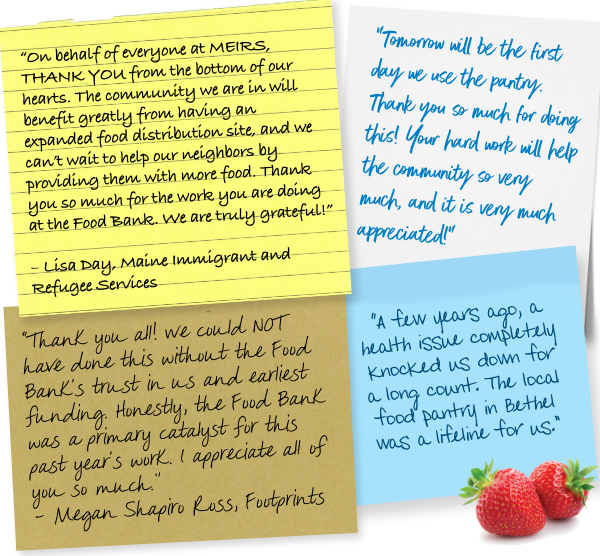 Filled With Gratitude
This time of year, we often stop to reflect on what we're grateful for in our lives. Some of our local partners and neighbors paused to do the same, and to share what your support means.
"On behalf of everyone at MEIRS, THANK YOU from the bottom of our hearts. The community we are in will benefit greatly from having an expanded food distribution site, and we can't wait to help our neighbors by providing them with more food. Thank you so much for the work you are doing at the Food Bank. We are truly grateful!"
— Lisa Day, Maine Immigrant and Refugee Services

"Tomorrow will be the first day we use the pantry. Thank you so much for doing this! Your hard work will help the community so very much and it is very much appreciated!"

"Thank you all! We could NOT have done this without the Food Bank's trust in us and earliest funding. Honestly, the Food Bank was a primary catalyst for this past year's work. I appreciate all of you so much."
— Megan Shapiro Ross, Footprints

"A few years ago, a health issue completely knocked us down for a long count. The local food pantry in Bethel was a lifeline for us."

"I just wanted to reach out and say THANK YOU! Last Friday, the hospital hosted its first 'Fresh Produce Day.' We were able to serve over 100 patients and staff in just a few short hours. One of our pediatric patients told me that 'this is the best day ever, my family will be so happy.'"
"Thank You for Helping"
We all need a little help now and then.

Debbie and Peter are no strangers to stepping up to help others in need. They are both retired and take care of Debbie's 83-year-old mom, who fell seriously ill last summer. They were able to get her through the roughest part, but they lost their home in the process. Now they live with Debbie's mom as her caregivers, but don't have sufficient income to rely on.

Meanwhile, they have serious health problems of their own, including heart failure, kidney disease, and diabetes. Their medical bills are piling up and they're worried about how they will make ends meet.

Thankfully, the Augusta community has been there to lend a hand to Debbie and Peter. At the Augusta Food Bank — a partner of Good Shepherd Food Bank — they are able to access the nutritious food they need to thrive.

"The food from Augusta Food Bank is the only food we have, and we share it with my mom and our cat and dog," Debbie says. "I don't know what we'd do if we didn't have this."

With prices for food and other essentials so high, some Maine families like Debbie's have to choose between bills and essentials like food and medicine.

Debbie is grateful for partners and donors like you who help make the healthy food her family needs more accessible. "Thank you from the bottom of my heart," she says. "Thank you for helping people who are at the end of their rope with nowhere to turn."

Some Mainers facing hunger also manage chronic health conditions, like diabetes. Your support helps provide nutritious options for people like Debbie.