Bangor Savings Bank Foundation Awards Good Shepherd Food Bank $50,000 for Renovation of Hampden Distribution Facility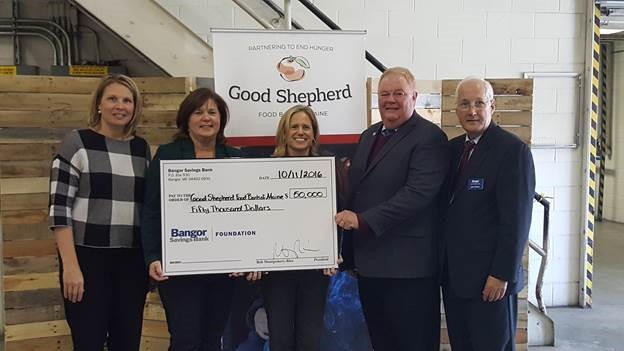 From left to right: Stacey Haskell, VP Marketing and Community Relations Manager, BSB; Melissa Huston, Director of Philanthropy, GSFB; Kristen Miale, President, GSFB; Jay Muth, VP Commercial Banking Relationship Manager, BSB; John Moore, Sr. VP Community Development Lender, BSB
Hampden, ME – Bangor Savings Bank has announced a $50,000 gift to Good Shepherd Food Bank for improvements to the organization's Hampden distribution center. Renovations to the building include the expansion of cold storage units to store fresh, perishable food for distribution across the state.
"We are so grateful to have the support of the Bangor Savings Bank Foundation on this project," said Kristen Miale, president of Good Shepherd Food Bank. "Unfortunately, the counties in northern and eastern Maine have the highest rates of food insecurity in New England. We're thankful that Bangor Savings understands the devastating effect of hunger in our communities and has shown leadership in helping us address the issue head on."
Good Shepherd Food Bank purchased its Hampden facility in 2015 from the Bangor Daily News. The building formerly served as the printing plant for the newspaper. The Food Bank transferred its regional operation from a location in Brewer and has been distributing food to local hunger relief charities out of the space since March 2016.
The Food Bank's primary objective in renovating the facility is to build a large freezer and computer-controlled produce storage units with distinct temperature and humidity environments. State-of-the-art cold storage units will help the organization ensure that people in northern, eastern and central Maine who are struggling with hunger have year-round access to local produce, dairy, meat, and seafood products.
Bangor Savings Bank has supported Good Shepherd Food Bank and its network of local hunger relief agencies for many years and was also instrumental in helping the Food Bank arrange financing for the purchase of the Hampden building.
"The Bangor Savings Bank Foundation is pleased to support Good Shepherd Food Bank of Maine with a $50,000 grant to help fund the improvements to the Food Bank's new Hampden distribution center. We understand the importance of this facility in providing year-round access to local produce, dairy, meat and seafood products in northern and eastern Maine," says Bob Montgomery-Rice, President and CEO of Bangor Savings Bank.
About Good Shepherd Food Bank
As the largest hunger relief organization in Maine, Good Shepherd Food Bank provides for Mainers facing hunger by distributing nutritious food to more than 400 partner agencies across the state, including food pantries, meal sites, schools, and senior programs. Together with its network, the Food Bank leads a statewide effort to combat the root causes of hunger by engaging in advocacy, nutrition education, and strategic partnerships. In 2015, the Food Bank distributed more than 19 million meals to families, children, and seniors in need throughout Maine. Website: www.feedingmaine.org; Phone: (207) 782-3554; Facebook: www.facebook.com/feedingmaine; Twitter: www.twitter.com/feedingmaine.
About Bangor Savings Bank
Bangor Savings Bank, with more than $3 billion in assets, offers retail banking and investment management services to Maine consumers as well as comprehensive commercial, corporate, payroll administration, merchant services, insurance, and small business banking services to Maine businesses. The Bank, founded in 1852, is in its 164th year of service to the people of Maine, with over 50 branches statewide and on the Web at www.bangor.com. The Bangor Savings Bank Foundation was created in 1997. Together the Bank and its Foundation invest more than $1 million per year into the community in the form of nonprofit sponsorships, grants and partnership initiatives.
###