Building Advocates Leadership Program Results
This past fall, Area Interfaith Outreach and Good Shepherd Food Bank teamed up to bring the Building Advocates Leadership Program to the greater Rockland area. The program wrapped up in November and held a graduation for the eight participants.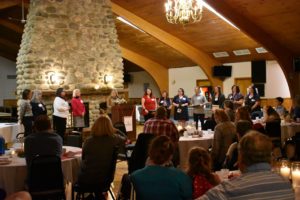 The Building Advocates Leadership Program strengthens, uplifts, and integrates voices of community members who are struggling with food insecurity into a statewide advocacy movement to end hunger. Throughout the program, participants built an active community, strengthened their skills in public speaking, and learned how to use their personal stories as tools for change. The program was co-led by a team, including Good Shepherd Food Bank staff, AIO volunteers and mentors from the local community.
"We knew when we were designing this program, that it had the potential to change lives. Now that we are on the other side, we can see and feel what happens when you create the space for people's voices and experiences to be seen and heard," stated Megan Taft, BALP program director for Good Shepherd Food Bank. "To thrive, people need to feel a sense of belonging and to feel like they have control over their lives. Too often, living in the crisis of poverty and being food insecure robs you of these things. During the eight-week program, we built trust and connection, which allowed participants to create relationships and to see their own life experiences reflected in one another."
Alongside the community building, the program works to develop skills that support participants in advocating to end hunger in Maine. Good Shepherd Food Bank is grateful to have the opportunity to work with many great local partners who assist with skill development around public speaking, storytelling, leadership styles, and strategies for working with the media.
Program participants are now in the next stages of learning how to effectively tell their stories and debriefing on what they've learned about themselves and food insecurity. Taft and other leaders are currently planning informational sessions to inform the next round of work that will happen in Rockland, Maine, during March, April, and May.
"We look forward to following the energy of this group and letting them take the lead as they plan and implement local advocacy projects and continue to use their stories as tools for change," said Taft.
For more information, please contact Megan Taft, BALP program director for Good Shepherd Food Bank at mtaft@gsfb.org.
###
Editor's Note:
For the image, please click on the link below.
BALP Participant Image, credit Good Shepherd Food Bank
About Area Interfaith Outreach (AIO):
For 30 years AIO, located in Rockland, has been providing food and energy assistance to a growing population of children, families and individuals affected by food and financial insecurity in Knox County. AIO works hand-in-hand with other local organizations, public and private, and with eight Knox County food pantries to ensure that anyone who needs help receives it. In 2019, AIO served more than 4,400 households and distributed more than 217,000 pounds of food and more than 400 energy assistance vouchers. More information at www.aiofoodpantry.org.
About Good Shepherd Food Bank:
As the largest hunger-relief organization in Maine, Good Shepherd Food Bank provides for Mainers facing hunger by distributing nutritious food to more than 400 partner agencies across the state, including food pantries, meal sites, schools, and senior programs. Together with its network, the Food Bank leads a statewide effort to combat the root causes of hunger by engaging in advocacy, nutrition education, and strategic partnerships. In 2018, the Food Bank distributed more than 25 million meals to families, children, and seniors in need throughout Maine.
Contact:
Jessica Donahue
Marketing and Communications Manager
Good Shepherd Food Bank
jdonahue@gsfb.org or (207) 782-3554