Food AND Medicine Helps Recruit Volunteers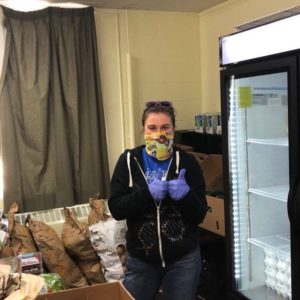 Food AND Medicine is a local, grassroots nonprofit established in 2001 that works on issues surrounding workers' rights and economic justice in the Bangor area. They are also the organizing entity for the Bangor Area Food Council.
Since the start of the pandemic, Food AND Medicine's pool of fantastic volunteers have risen to the challenge of helping out their community – stepping in wherever the needs present themselves. Many are volunteering at local food pantries, filling in for elderly at-risk volunteers, and bolstering numbers for those who have had to alter their usual service systems completely. Others are forming phone tree teams and checking in on residents.
Most recently, Food AND Medicine has recruited volunteers for Good Shepherd Food Bank to help area pantries with pre-boxing food for drive-up distributions, making deliveries to homebound individuals, and helping with retail donation pickups. Darcy Cooke, Food AND Medicine's Community Organizer, has also been recruiting volunteers to help out at the Hannaford Center, Good Shepherd Food Bank's Hampden distribution center.
Food AND Medicine's members and volunteers have shown their love and commitment to their neighbors throughout this crisis. As volunteers, members, and partners ban together, everyone benefits, and we are all grateful to have each other during these difficult times!
For more information on the Food Bank's COVID-19 response, please visit www.gsfb.org/mainecovid.