Fritz and Susan Onion Matching New Gifts to Capital Campaign
HAMPDEN, Maine – Fritz and Susan Onion have made a gift to Good Shepherd Food Bank that will match new gifts to the Food for All Capital Campaign, up to $500,000. This leadership gift will help the food bank meet its $5 million goal to complete the renovation of a new food distribution center in Hampden, Maine.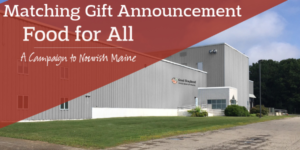 Good Shepherd Food Bank publicly launched Food for All: A Campaign to Nourish Maine at a groundbreaking event in May 2018. The $5 million capital campaign is funding the transformation of the former Bangor Daily News printing plant in Hampden into a 40,000-square-foot distribution center that will allow the food bank to more equitably and efficiently serve central, northern, and Downeast Maine.
Of the $5 million needed for the project, nearly $4.2 million has been raised to date from generous foundations, businesses, and individuals. The Onions hope that community support, matched by their own gift, will propel the campaign to its finish line.
"We are excited that our gift will help the food bank meet its capital campaign goals," said Fritz Onion. "Good Shepherd plays a critical role in providing food security for so many Mainers, we are honored to give our support to such an impactful organization," added Susan Onion.
"We are incredibly grateful for the leadership support of Susan and Fritz," said Kristen Miale, president of Good Shepherd Food Bank. "Since learning of their generosity, we've been working to secure some early gifts toward the match and have raised about one-fifth of the match already. If we can raise about $400,000 more to be matched by the Onions, we will meet our $5 million goal."
Good Shepherd Food Bank has been serving the entire state for 38 years by sourcing and distributing food to more than 400 food pantries, meal sites, and other ending hunger partners, but the food bank needs to do more to meet the need and is committed to doing so.
Numbers from the U.S. Department of Agriculture indicate that more than 14 percent of Maine households struggle with food insecurity—including one in five children. Maine ranks ninth in the nation for the highest rates of food insecurity and first in the Northeast. Mainers in central, northern, and Downeast regions struggle with particularly high rates of food insecurity.
"Last year we distributed more than 25 million meals—but it's just not enough," said Miale. "We have a bold goal of ensuring that all food-insecure Mainers will have access to the nutritious food they need to thrive, when and where they need it, by 2025. This means at least an additional 10 million meals are needed—beyond what we and our partners are already distributing."
One of the food bank's greatest obstacles to meeting its long term goal of distributing more nutritious meals annually is the limited capacity and location of its existing Auburn-based distribution center. The new distribution center in Hampden will feature three state-of-the-art temperature and humidity controlled zones, which will allow for short- and long-term cold storage of produce, a freezer for storing lightly processed produce, fish, meat, and other perishable products, and an area for dry goods. Enhanced cold storage capacity will allow the food bank to source more fresh food—including local farm purchases—for year-round distribution.
"Once the Hampden distribution center is complete, we'll have the capacity to distribute those additional 10 million meals that are needed," Miale explained. "We'll have the infrastructure we need, and then we turn to work with our community partners to get the food where it's needed when it's needed."
"There has been a lot of interest in our project since we publically announced the Food for All capital campaign," said Erin Fogg, vice president of development for the food bank. "We hope that many Mainers will respond to Fritz and Susan Onion's generous challenge gift to help get our new distribution center up and running. Every gift will help, and will be doubled in power thanks to the match."
To learn more about Food for All: A Campaign to Nourish Maine or make a donation toward the Onion's matching challenge, visit www.feedingmaine.org/hampden. Individuals, businesses, or organizations that are interested in discussing a donation to the campaign should contact Erin Fogg, vice president of development, at 207-240-3029 or efogg@gsfb.org.
The food bank purchased the former Bangor Daily News printing plant in 2015 and began limited operations out of the facility in early 2016. Renovations began last summer and are slated to be completed by September. The food bank is planning a grand opening celebration on September 26, 2019.