Good Shepherd Food Bank Announces Purchase of Warehouse Facility in Hampden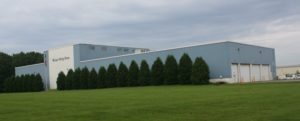 Auburn, ME (October 28, 2015) — Good Shepherd Food Bank of Maine has purchased a warehouse facility located at 11 Penobscot Meadow Drive in Hampden, Maine. The building was previously owned by Bangor Publishing Co. and was the former printing plant for the Bangor Daily News.
"This warehouse now becomes a huge asset for our network of partners in the region, including food pantries, farmers, volunteers and many other community collaborators," said Kristen Miale, president of Good Shepherd Food Bank. "This milestone would not have been possible without the leadership of the Bangor Daily News and the generosity of the Warren Family, who were both genuinely engaged in making this transaction achievable for our organization."
Good Shepherd Food Bank, the state's largest charitable hunger relief organization, is headquartered in Auburn, has distribution warehouses in Brewer and Biddeford, and an administrative office in Portland.
The Food Bank will relocate its Brewer distribution center to the new Hampden location, which offers additional space needed to expand cold storage capacity and better serve central, northern, and eastern Maine. The organization plans to begin operating out of the Hampden facility in January 2016.
Cold storage has become a critical need for the Food Bank due to a significant increase in the distribution of perishable food products. The perishable items are a result of the organization's heightened emphasis on nutrition and include fresh produce, meat, and dairy, which all require temperature controlled transportation and storage.
"We were gratified for the opportunity to work with Good Shepherd," said Rick Warren, publisher of Bangor Daily News. "Its work is so important across all of Maine that we were eager to find a way to help out. Having our plant become a food-distribution center is a wonderful way to give it new life and purpose."
The Food Bank's current facility in Brewer is 7,400 square feet. The Hampden location offers 32,000 square feet of warehouse space, which will provide great flexibility to the statewide nonprofit, along with the potential to partner with other mission-related organizations in the region.
"Our team is extremely proud to have been a part of something that we know will improve the way food gets to people in need," said Bev Uhlenhake of Epstein Commercial Real Estate, which managed the transaction. "Kristen and her team are on a mission, they will be successful, and I have no doubt that they will look back at this move as a tipping point toward that success. There are times when we have the opportunity to work on a project that we know is so much bigger than the sale of a building. This was one."
Good Shepherd Food Bank will be hosting an event at its new Hampden warehouse at 10:00 am on November 12 to offer more details on their innovative plans for the region.
###
About Good Shepherd Food Bank
As the largest hunger relief organization in Maine, Good Shepherd Food Bank provides for Mainers facing hunger by distributing nutritious food to more than 400 partner agencies across the state, including food pantries, meal sites, schools, and senior programs. Together with its network, the Food Bank leads a statewide effort to combat the root causes of hunger by engaging in advocacy, nutrition education, and strategic partnerships. In 2014, the Food Bank distributed 17.5 million meals to families, children, and seniors in need throughout Maine. Website: www.feedingmaine.org; Phone: (207) 782-3554; Facebook: www.facebook.com/feedingmaine; Twitter: www.twitter.com/feedingmaine.