Good Shepherd Food Bank Celebrates Opening of New Food Distribution Center in Hampden
HAMPDEN, Maine – Good Shepherd Food Bank President Kristen Miale announced the opening of the organization's new food distribution center in Hampden, Maine, today. This announcement marks the completion of the $5 million capital campaign that funded renovations of the former Bangor Daily News printing plant.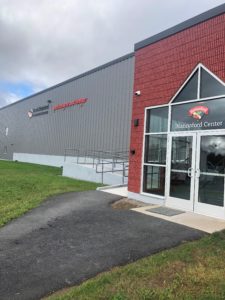 The Food Bank dedicated the building to its longtime partner, Hannaford Supermarkets, naming the building the Hannaford Center. Hannaford President Mike Vail was on hand to help unveil the building's name and to offer congratulatory remarks.
Good Shepherd Food Bank is Maine's leading hunger-relief organization, operating across the state with a network of more than 400 partners distributing more than 25 million meals per year. The new Hampden distribution center is designed to augment the Food Bank's 56,000 square-foot warehouse in Auburn, allowing more efficient, effective, and equitable distribution of food to central, northern, and Downeast Maine.
"The most recent data on food insecurity was just released and we are pleased that Maine's rate of hunger declined from 14.4 to 13.6 percent," said Kristen Miale, president of Good Shepherd Food Bank. "But this rate remains higher than pre-recession levels, while the national average declined to pre-recession levels, and we still have the highest rate of hunger in the northeast."
"We have a bold goal of ensuring that all food-insecure Mainers will have access to the nutritious food they need to thrive, when and where they need it, by 2025," explained Miale. "This means at least 8.5 million additional meals are needed annually—beyond the 25 million meals we and our partners are already distributing each year. This building gives us the physical capacity to meet the bold goal."
"This facility isn't to handle the work we're doing today," said Miale. "It's to handle the work that we must do in the future—starting today."
The building features three state-of-the-art temperature and humidity-controlled cold storage units, enabling year-round distribution of fresh food and expanding the Food Bank's capacity to source more fresh produce —including locally grown produce that is purchased from Maine farmers through the Mainers Feeding Mainers program. The cold storage center, named for Next Generation Foundation and its founder, Eveyln Offutt, also includes vast freezer space designed to store lightly processed local produce and seafood, as well as meat, dairy, and other perishable products.
The building also includes a dry storage space for shelf-stable products, as well as areas for sorting, inspecting, packing, and distributing food.
Miale lauded the donors who have made the Food for All Capital Campaign possible.
"More than 900 donors have contributed to the campaign from gifts as small as $1 up to one million dollars," explained Miale. "Every gift counted and helped us reach our goal. We are so grateful for the belief, confidence, and trust of our donors."
When it came to naming the facility, Good Shepherd Food Bank saw one clear choice in Hannaford Supermarkets.
"When JoAnn Pike founded Good Shepherd Food Bank in 1981, she didn't do it alone. She founded the food bank with the help of friends, neighbors and caring citizens—and one critical initial food partner: Hannaford Supermarkets," said Miale. "Going back to the first records we can find from the early 2000s, we can track that Hannaford has donated well over 100 million pounds of food. Realistically, we know it is much more than that going back to the early 80s."
"Our headquarters in Auburn is named for our founder, JoAnn Pike. When it came time to dedicate this building in Hampden, we couldn't think of a more deserving partner than the one who has been there since the beginning: Hannaford."
Kristen Miale and Mike Vail cut the ribbon of the new facility along with Food Bank board members Michelle Hayes and Frank Pecoraro, Mayor of Hampden Ivan McPike, and President of the Bangor Region Chamber of Commerce Deb Neuman.
About Good Shepherd Food Bank
As the largest hunger-relief organization in Maine, Good Shepherd Food Bank provides for Mainers facing hunger by distributing nutritious food to more than 400 partner agencies across the state, including food pantries, meal sites, schools, and senior programs. Together with its network, the Food Bank leads a statewide effort to combat the root causes of hunger by engaging in advocacy, nutrition education, and strategic partnerships. In 2018, the Food Bank distributed more than 25 million meals to families, children, and seniors in need throughout Maine.
Website: www.feedingmaine.org
Phone: (207) 782-3554
Social: @FeedingMaine and #FeedingMaine