Good Shepherd Food Bank Creates an Inclusive Online Experience
AUBURN, Maine – Good Shepherd Food Bank of Maine is proud to announce the launch of the Recite Me accessibility toolbar on www.FeedingMaine.org and www.NutritionForMe.org. This new feature provides an inclusive online experience, enabling website visitors to access online content barrier-free.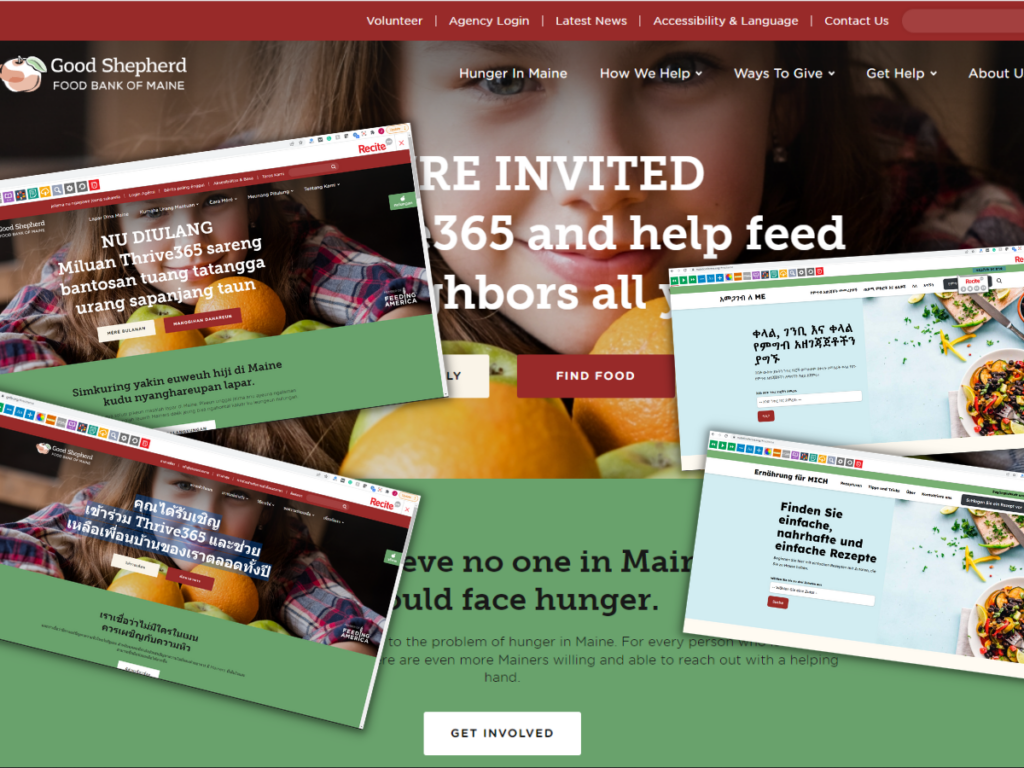 Providing an inclusive online experience is extremely important to the Food Bank. The Recite Me assistive toolbar ensures viewers can access content and find assistance in a way that works best for them. Available tools include a screen reading function, multiple reading aids, customizable styling options, and an on-demand live translation feature of over 100 languages, including 35 text-to-speech options.
"As the Food Bank strives to reimagine and restructure Maine's food ecosystem, we recognize that equitable access to resources is one step towards a more inclusive future, ensuring all Mainers have access to an abundance of nutritious and culturally-important foods for themselves and their families," states Megan Taft, director of equity, diversity, and inclusion at Good Shepherd Food Bank of Maine. "With the addition of the Recite Me toolbar, our websites are now fully ADA-compliant with translations across hundreds of languages making it easier for our neighbors experiencing hunger to locate community pantries and meal sites, while also connecting with the Food Bank's vast array of resources."
The internet can be an intimidating place for those with access barriers, and those lacking the tools they need to understand or communicate adequately are at a significant disadvantage. Good Shepherd Food Bank's core mission is to increase access to healthy, nutritious food for neighbors in need. This website is an instrumental tool to help ensure that everyone who needs food can find resources quickly.
Ross Linnett, Recite Me's Founder and CEO, commented, "It is important to provide an inclusive online experience, where everyone can use our digital world in a way that best suits their needs. When I was diagnosed with dyslexia in university, I found reading and understanding online information extremely challenging. When the idea for Recite Me was born, I felt empowered, like I had opened the door to a whole world of information, services, and experiences."
To explore the new accessibility support tool for yourself, please visit www.FeedingMaine.org or www.NutritionForMe.org and click the Accessibility & Language link at the top of the sites.
Or watch a demonstration video: https://youtu.be/bKIc5FiyX6I.