Good Shepherd Food Bank Debuts a New Logo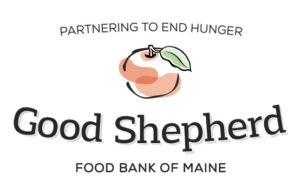 Good Shepherd Food Bank has a new look! We are debuting a new logo and want to share with you a bit about our branding journey.
Good Shepherd Food Bank has been working to end hunger in Maine since 1981. While the heart of our work has remained much the same over those 34 years, the organization has evolved and grown. Most recently, we completed a new strategic plan in 2013 and updated our mission statement in 2014. To cap off this organizational development, we began to consider branding. The time felt right and the great momentum among our staff, board, volunteers, and donors propelled us forward.
Thanks to the generous donation of time and talent from the Marketing team at Hannaford Supermarkets, we have been able to develop a new visual identity which we feel represents our organization today and where we're headed in the future.
So, what does it all mean?
New Name
While we will continue to be known as Good Shepherd Food Bank, we've added "of Maine" to our name to emphasize our commitment to serving the entire state. We are dedicated to distributing food equitably across Maine – every one of our neighbors should have access to healthy food, whether they live in York County, Aroostook County, or anywhere in between.
New Graphic
The apple, a traditional Maine crop, represents our commitment to distributing nutritious foods to Mainers facing hunger. The only way we will end hunger for good is by focusing our resources on foods that nourish the body and mind, rather than foods that contribute to poor health.
New Tagline
We are thrilled about our new tagline, "Partnering to End Hunger." Partnering is the core of what we do at Good Shepherd Food Bank. We partner with the food industry and local farmers to source more than 20 million of pounds of food a year for Mainers in need. We partner with food pantries, meal sites, schools, health centers, and other community groups to get this food into the hands of people in need. We partner with volunteers to make sure the day-to-day work gets done in our warehouses. And we partner with our financial donors to steward their generous gifts toward the best use and greatest impact. This is how the work gets done and we're happy that our new brand acknowledges the importance of our partners.
We will be working in the coming weeks and months to introduce this logo – you'll see it in our warehouses, on our trucks, and across all of our communications. We hope you like it! And we hope to count on your support as we continue our work to end hunger in Maine.