Good Shepherd Food Bank Honored by The Christine B. Foundation
Hampden Distribution Center Recognized as 2022 Community Partner of the Year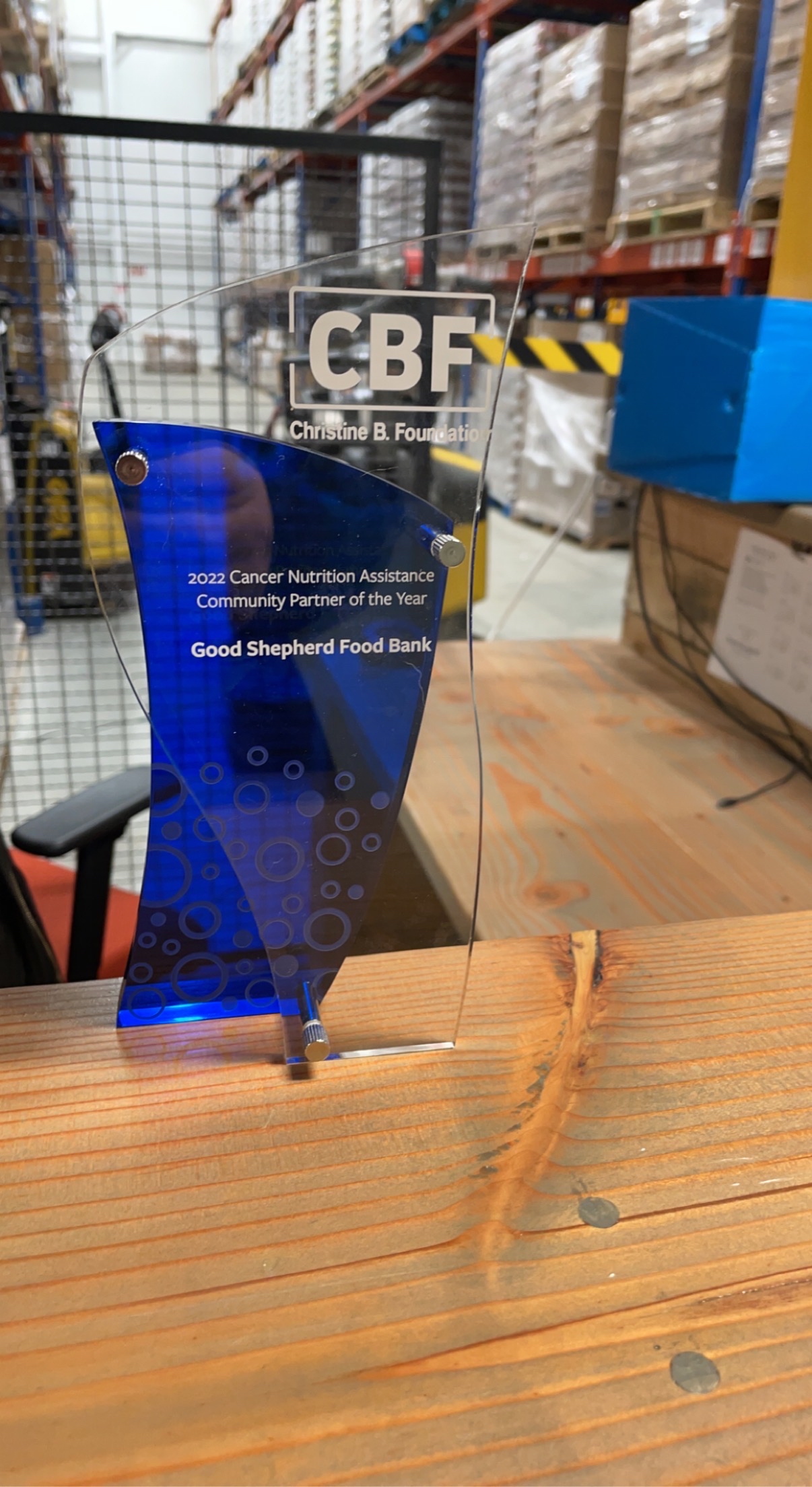 The bright and sunny drive of Good Shepherd Food Bank's Hannaford Center, their distribution center in Hampden, served as the perfect backdrop for picking up locally grown and healthy, nutritious foods for Mainers in need, specifically cancer patients. As Corey McClain, distribution center associate, met Matt Dexter, founder of The Christine B. Foundation, Inc., with a smile and warm welcome, additional distribution staff readied the Foundation's order inside.
The Christine B. Foundation community of cancer support is 120+ supporters, powered by volunteers and partners across eastern Maine. In 2019, 9,600 new malignant cancer cases were identified among Maine residents, with 3,413 cancer deaths. The Foundation was founded by Matt Dexter, son of Christine B. Dexter, who passed away from cancer in 2008. The organization began in 2014 as a solo-fundraising event. And shortly after its inception, the Foundation started to work with community members to address the unmet needs of those facing cancer in eastern Maine.
"Our partners are the reason we are here," stated McClain, "For them to be pleased with our work is the most important thing. Knowing our work helps people in the cancer community, who are facing countless other barriers, to have access to fresh, healthy, and nutritious food makes all the difference to me and everyone on the team here at the Food Bank."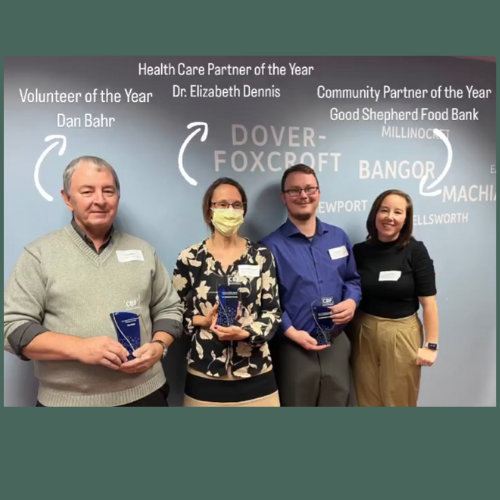 The Foundation recognized the Hampden Team from Good Shepherd Food Bank's Hannaford Center as their 2022 Community Partner of the Year, stating "their kind, genuine, and endless commitment to providing food to CBF and their 600+ partners in Maine. Good Shepherd Food Bank makes a notable difference in our community and the CBF vision. In 2022, they continued to advance CBF's innovative distribution of nutrition, bring partners together, provide and identify funding sources, and always greet us with a smile during weekly food order pickups."
Good Shepherd Food Bank is honored to be a strong community partner to all our partners throughout Maine. In addition, the Foundation recognizes Dan Bahr as the 2022 Volunteer of the Year and Dr. Elizabeth Dennis as the 2022 Healthcare Partner of the Year.
"Individually, these awards represent the significant commitment of time, resources, and talent to addressing cancer with CBF. Each of these recipients has improved the overall mission while collectively reminding us that facing cancer requires a multi-sector effort," said Dexter.
For more information on volunteering and/or supporting The Christine B. Foundation, please visit www.chrisbfund.org/take-action or contact Sarah DeGeorge at sarah@chrisbfund.org.