Good Shepherd Food Bank Honors Mike Dubyak, Chairman & CEO of Wright Express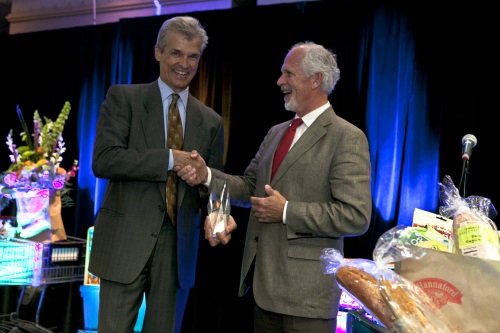 JoAnn Pike Humanitarian Award Given at Gala Dinner in Portland
Portland, ME – Good Shepherd Food Bank bestowed Mike Dubyak, Chairman & CEO of Wright Express, with the 2012 JoAnn Pike Humanitarian Award at a gala dinner in Portland on Tuesday night.
Over 240 supporters of Good Shepherd Food Bank gathered at the Holiday Inn by the Bay to celebrate the organization's efforts to fight hunger in Maine and to honor Dubyak and Wright Express.
The evening began with a reception, followed by dinner in a room set up to look like a food bank warehouse, complete with tall shelving stocked with food that will be distributed to people in need throughout the state. After several speakers and the presentation of awards, Bob Marley capped the evening off with a rousing comedy routine.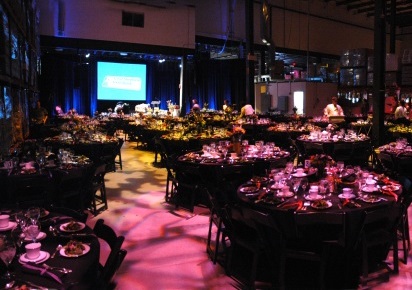 The JoAnn Pike Humanitarian Award Dinner also serves as a fundraising event for the Food Bank. This year, more than $125,000 was raised thanks to the generosity of numerous sponsors including Hannaford Supermarkets, Wright Express, Poland Spring, Wells Fargo, WilmerHale, Bank of America Merrill Lynch, Garrand, RBS Citizens, TD Bank, and many more.
For statistics on poverty and hunger, media inquiries, photos, or interview requests, please contact Clara McConnell at (207) 782-3554 x 2107 or cmcconnell@gsfb.org.
About Good Shepherd Food Bank
The largest hunger relief organization in Maine, Good Shepherd Food Bank provides for those at risk of hunger by acquiring surplus and purchased food and distributing that food to more than 600 partner agencies across Maine. Since 1981, the Food Bank has partnered with individuals, businesses, and farmers to alleviate hunger and build community relationships. In 2011 the Food Bank distributed 13 million pounds of food to families in need. Phone: (207) 782-3554; Website: www.gsfb.org; Facebook: www.facebook.com/feedingmaine; Twitter: www.twitter.com/feedingmaine.
###