Good Shepherd Food Bank Receives Support from Maine's Credit Unions
On Wednesday, January 23, the Maine Credit Union League joined representatives from Good Shepherd Food Bank at their Hampden Distribution Center, located at 11 Penobscot Meadow Drive in Hampden, to present the organization a check for $20,000 to support their renovation efforts. Last year, Maine's Credit Union's Campaign for Ending Hunger pledged $100,000 to support the facility's expansion plans. This donation was the second contribution given to Good Shepherd Food Bank within the last year to fulfill that commitment.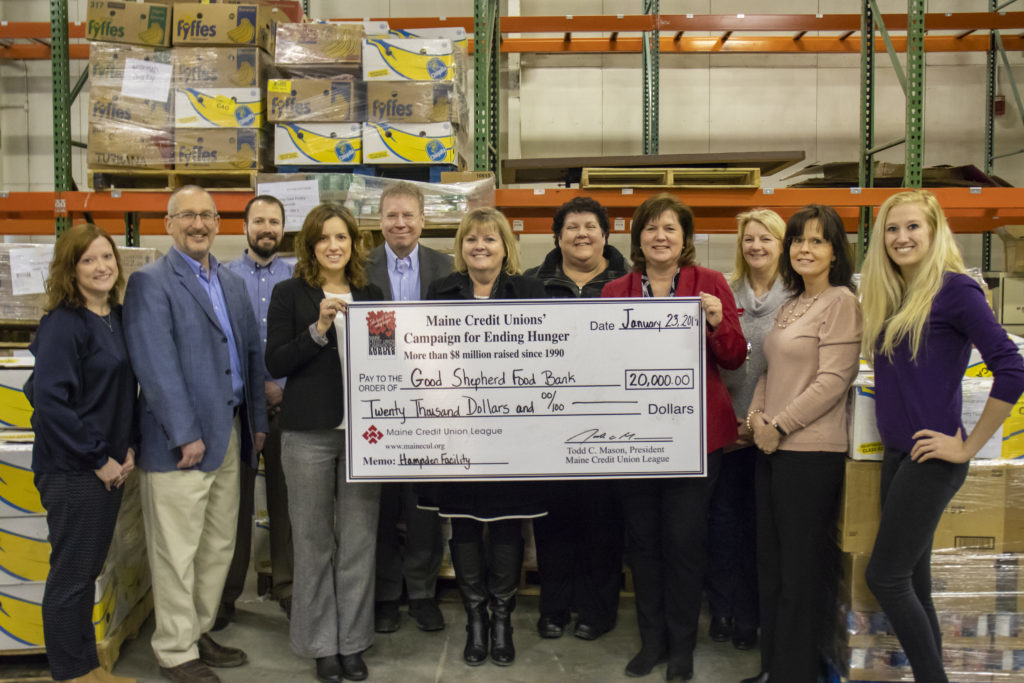 Good Shepherd Food Bank purchased the former Bangor Daily News printing plant in 2015 and has only been using a portion of that facility for its food distribution operations since 2016. With the help of partners like Maine's Credit Unions, the Food Bank has a $5 million Food for All capital campaign underway to fund significant renovations that will transform the facility into a food distribution center. Once complete, the distribution center will help the Food Bank more efficiently and equitably serve neighbors in Downeast, central, and northern Maine. To date, the Food for All campaign has raised $3.9 million.
"Maine's credit unions are proud to support the tremendous work Good Shepherd Food Bank does each and every day to fight hunger here in Maine," said Todd Mason, President/CEO of the Maine Credit Union League. "When we were asked to contribute to the Food Bank's capital campaign, we immediately jumped on board. The expansion of their Hampden facility will go a long way toward feeding more Mainers in need and our credit union network is pleased to play a role in supporting such a critical goal."
Upon completion of the facility's renovation, the food bank will have the capacity to distribute an additional 10 million meals per year, on top of the 25 million distributed annually today. The building's new packing area will be officially dedicated as the Maine's Credit Unions Food Packing Area. Members of the media are invited to attend the check presentation with the Maine Credit Union League.
"Maine's Credit Unions have been dedicated partners in our fight to end hunger and this gift to support the renovations of our Hampden distribution center is a testament to their commitment," said Kristen Miale, president of Good Shepherd Food Bank. "It will be an honor to recognize our long-term partnership with Maine's Credit Unions in this facility, which represents our shared commitment to improving access to healthy, nourishing food for Mainers struggling with food insecurity."
Since 1990, the Maine Credit Unions' Campaign for Ending Hunger has raised over $8 million, including a record-breaking $740,000 raised during 2017. The Campaign will announce its 2018 fundraising totals at its annual Ending Hunger luncheon taking place in February.
###
About the Maine Credit Union League
The Maine Credit Union League is a nonprofit, professional trade association that exists to serve Maine's credit unions. Founded in 1938, the League's mission is to help credit unions succeed and improve the financial lives of their members. As the trade association for Maine's credit unions, the League provides advocacy, education, and other resources designed to assist credit unions in meeting the needs of their membership. For more information, visit www.mainecul.org.