Good Shepherd Food Bank Releases Hunger Projections by County
Southern Maine Counties Expected to See Greatest Increase in Hunger Due to COVID-19 but Northernmost Counties Will Still See Highest Rates of Hunger
Hunger across Maine is climbing due to the economic impacts of COVID-19. Good Shepherd Food Bank, Maine's largest hunger relief organization, is assessing the local impact in each of Maine's sixteen counties, as statewide rates of hunger are projected to grow by as much as 40 percent in 2020.
Sagadahoc, York, Cumberland, and Knox counties are projected to see the greatest increase in the number of people struggling with hunger. Piscataquis, Somerset, Aroostook and Washington counties will see less of an increase, but will still rank as being the hungriest counties in the state—in fact, those counties have the highest rates of hunger in the northeastern United States. Piscataquis County will see the lowest overall growth in food insecurity, but will still see a substantial increase of 28 percent. (A full table of county-level data is included below.)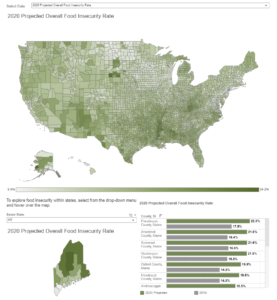 These new county-level projections are released in conjunction with Feeding America's Map the Meal Gap study, which uses the most recent data from the United States Department of Agriculture (USDA) and Census Bureau to analyze local levels of food insecurity. Feeding America used the Map the Meal Gap model to predict changes to food insecurity rates for the overall population and children in response to projected changes to poverty and unemployment in the wake of the coronavirus pandemic.
"These latest county-level projections confirm what we're seeing on the ground," said Kristen Miale, president of Good Shepherd Food Bank. "Our partner food pantries and meal sites in the southern counties have seen the need skyrocket as these more populous areas experienced increased job losses. Our partners in the northernmost counties are seeing big increases, too, but not at the same rate; unfortunately, these counties are accustomed to having high rates of hunger in their communities."
Pre-pandemic, Maine had approximately 180,000 people struggling with food insecurity. Good Shepherd Food Bank believes this number could climb to as high as 250,000 people, should rates of unemployment and poverty sustain at high rates.
"Unfortunately Maine's children will see the highest increases in levels of food insecurity," says Miale. "Similar to overall population trends, the greatest increases are in the southern part of the state, but the impact statewide is devastating."
Cumberland County's rate of childhood food insecurity is projected to increase by 59 percent with Sagadahoc and York Counties not far behind, bringing the overall rates of child hunger in those counties to around one in four kids. While the increase is staggering in southern Maine, the rates of child hunger in counties like Piscataquis, Somerset, Aroostook, Washington, and Oxford could cause one in three kids to experience hunger.
"Ultimately, these projections and numbers are devastating for Mainers in all counties. Behind these percentages are our neighbors, each with their own unique situation and personal struggle," said Miale.
Good Shepherd Food Bank estimates that it will incur $6.3 million in additional expenses related to the first six months of its COVID-19 response and the organization has raised over $5 million to specifically fund those needs. With this support, the Food Bank increased its food distribution by 2 million pounds this spring compared to the same time period last year. The Food Bank purchased the majority of this additional food at a time when food donations from retailers decreased due to supply issues. In May alone the Food Bank purchased 370 percent more food than it does in a normal month.
"COVID-19 has brought a swift and crushing blow to the progress we had made over the past 10 years to improve access to food for Mainers struggling with hunger," said Miale. "We have been buoyed over the past three months by the overwhelming support from our partners and the thousands of Mainers who have contributed to our response efforts, but clearly we have our work cut out for us—our state's recovery from this crisis may bring the greatest demand that our charitable food network has ever seen. This is just the beginning."
The data referenced here is from Feeding America, the largest hunger-relief organization in the U.S. with a nationwide network of more than 200 food banks that feed more than 40 million people through food pantries, soup kitchens, shelters, and other community-based partners. Good Shepherd Food Bank is a member of this network and works closely with Feeding America to bring national hunger-relief tactics to Maine. Additional information on Map the Meal Gap methodology is available by contacting Good Shepherd Food Bank or Feeding America.