Hannaford Joins Pineland Farms Cheese Donation Efforts
Pineland Farms Dairy announced today that Hannaford Supermarkets joined their cheese donation efforts aimed at addressing hunger relief and helping Maine dairy farmers. Hannaford committed to purchasing $10,000 of Maine milk which will be transformed into 7,000 pounds of cheese by Pineland Farms Dairy and donated to Good Shepherd Food Bank's Mainers Feeding Mainers program.
"This is a great example of how local partnerships work together to serve our communities when most in need," said Joe Luca, Director of Deli, Kitchen, and Bakery. "And Hannaford is proud to be a part of it."
"We know there is going to be a long term need within the state and again very much appreciate the commitment from the Hannaford team, not just to this project but also the everyday support of locally-made cheese," said Mark Whitney, President and Owner of Pineland Farms Dairy.
Good Shepherd Food Bank will distribute the cheeses at 48 sites fixing meals-to-go, 10 shelters and 134 school pantry site serving student and families.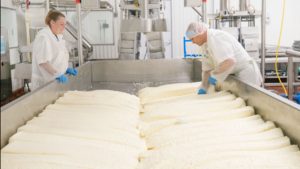 "We are beyond ecstatic to receive and give locally-made Pineland Farms Dairy cheese to our network of partner agencies," stated Kristen Miale, president of Good Shepherd Food Bank. "Before COVID, approximately 180,000 Mainers relied on our network of more than 500 partners every year and 1 in 5 Maine kids were food insecure. On a normal day, we provided more than 68,000 meals. For our neighbors already facing food insecurity, COVID means the very real danger of lost wages, further difficulty accessing enough food, and an increased reliance on the charitable food network. Add onto that the school closures and job losses, and we know that even more Mainers will be struggling."
While Maine no longer has the challenges of an oversupply of milk it had at the start of the coronavirus pandemic, farms continue to struggle with ongoing low prices for milk. The purchase of milk by Hannaford for this donation program provides direct support to struggling Maine farms.
"Like others, our farm has struggled up and down throughout the COVID-19 pandemic. Pineland Farm Dairy as well as Hannaford have reached deep into their pockets and ability to make things better in the dairy industry and the community," said Julie Hicks of G.E. Hicks Dairy Farm, Inc. in Corinth. "To me that's an honor and a blessing to know that there are companies out there that cares as much as they do about the farms in Maine, to try to keep them staying strong and keep on going on."
In early June, Pineland Farms fulfilled their pledge of 25,000 pounds of cheese to Good Shepherd Food Bank, in partnership with Libra Foundation and Dairy Farmers of America.
Pineland Farms staff preparing cheese for shipment to Good Shepherd Food Bank. Photo Credit: Pineland Farms
About Pineland Farms Dairy Company:
Pineland Farms Dairy Company began its operation in 2005 and further expanded in 2019 to a state of the art facility, located in Bangor, Maine. The company produces specialty cheese products for the retail and foodservice industry, as well as fluid milk for foodservice and industrial use. The company supports local dairy farmers to craft quality cheese products and process the freshest milk in Maine. www.pinelandfarmsdairy.com
About Hannaford Supermarkets:
Hannaford Supermarkets, based in Scarborough, Maine, operates 183 stores in the Northeast. Stores are located in Maine, New York, Massachusetts, New Hampshire, and Vermont. Hannaford employs more than 26,000 associates. Additional information can be found at www.hannaford.com.