How the Food Moves | Meet Kai Loundon, Community Resource Representative
Did you know Good Shepherd Food Bank distributes over 25 million meals every year to food insecure people in Maine? It's true, but we don't do it alone.
We work with a network of over 400 food pantries, soup kitchens, shelters and hunger relief programs throughout the state who receive from us the food they need to stock their shelves. While most of these partners are run by volunteers, they all need to maintain appropriate levels of food safety and customer service with the people they serve.
To ensure all of our partners have all the resources they need to meet these standards, we employ six Community Resource Representatives. These incredibly organized and service-oriented people act as friends and coaches to all the pantries and programs within their assigned territory. Kai Loundon is one of these people. Since October 2015, Kai has been Good Shepherd Food Bank's link to Aroostook, Penobscot, Piscataquis, Hancock, and Washington counties.
It's an important job in a vast part of the state that we want you to know more about. Luckily for us, Kai took the time out of his busy schedule to answer some questions that will help you understand what all of our Community Resource Representatives do and how their work puts food in the hands of Mainers in need.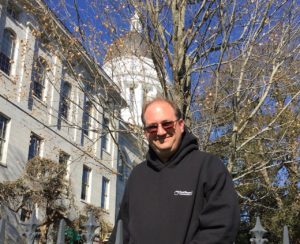 What are your responsibilities?
As a Community Resource Representative, I work with both partner agencies as well as retail donors such as Hannaford, Shaw's and Walmart. On the agency side of things, I visit the 85 partner agencies in my territory wearing the dual hats of ensuring compliance with food storage and safety guidelines as well as offering resources around capacity building (helping them serve more people, more efficiently and effectively). The emphasis is always on offering resources.
I also facilitate or attend regional networking meetings of partners as well as local, regional, and state organizations that get together quarterly to address issues of food insecurity. On the retail side of things, I visit stores to recognize their generous direct donations to local partners, troubleshoot any challenges with agency pickups or gaps in their donation schedules, and work with them to get the most usable food out of what they aren't able to sell.
What's a typical day like?
There is definitely no "typical" day in the work I do. In an ideal day, I will be on the road with at least one visit to a partnering agency, with a morning stop or two at a retail donor. I might have a Food Mobile distribution to oversee or a regional network meeting to attend. I may also have a training session or a meeting at our headquarters in Auburn. If I'm doing my job right, I will be texting, phoning, and emailing at least ten different partners each day, helping to address their needs, being a link to the larger organization, and connecting them to resources both small and large.
What's the most satisfying part of your job?
The work is relational, and I'm fortunate to work with such great individuals at the Food Bank as well as all the caring, colorful, and dedicated people running food assistance programs and offering donations through local supermarkets. The sense of everyone pulling in the same direction to provide healthy food is immensely gratifying.
What's the most difficult/challenging part of your job?
Knowing that a properly funded and accessible SNAP (Food Stamp) program would dramatically reduce the need for food banks and for the assistance provided through the many pantries that work so hard to meet the needs of families in our communities. There's an enormous pressure to meet that need – a pressure that's grown over the past few decades due to increasing rates of food insecurity and the fraying of the public safety net. Investing more in a federal program that lets people shop for what they need, when they need it, at the same grocery store as their neighbors (and puts federal dollars into the local economy!) is so much better than building a network of charitable "grocery stores" with limited hours, product options, and consumer choice. The growth and professionalization of our work at food banks and pantries is necessary but also very sad and I feel various degrees of angst about that pretty much every day.
What's the one thing you wish everyone knew about Good Shepherd Food Bank?
That there is a huge difference between a food bank a food pantry! As a food bank, we are a central collection point of large (i.e., tractor trailer truckloads) donations that we disperse across the entire state through our network of independent food assistance programs, most of which are food pantries.
Any other thoughts or experiences you'd like to share? I wish everyone knew how invested we are in this work – it is not just a day job, it is not simply a logistics job, and it is not just about food. We're people who see food insecurity and poverty in our community and we want it to end. Yes, we want to get every last bit of the best, most nutritious food to those who need it, where they are, and with a dignity of experience that they so rarely find in other parts of their lives. But we also want decision-makers to hear the voices and stories of the people we serve, and to listen to the underlying reasons why they have to make excruciating trade-offs between food and other necessary expenses.
We want everyone in Maine to understand the flaws in the system that allows one in five children to be food insecure rather than make judgments about parents' inability to provide for their kids. And with that understanding, we want as many people as possible to take action to fix those systemic flaws. Acknowledging that may take some time, but we will be here— making sure enough nutritious food is getting to our partners so they have enough for all the people who come to their doors.