How the Food Moves | Meet Lyndon Hopkins, Hampden Distribution Center Manager
As we continue counting down to the grand opening of our new 40,000 square foot distribution center in Hampden that will help us distribute an additional 10 million meals a year to northern, central, and Downeast Maine, we wanted to introduce you to a man who will help this facility reach its full potential.
Lyndon Hopkins has been our Hampden Distribution Center Manager since 2014 when it of a 7,500 square foot facility with 7' ceilings on Stevens Road in Brewer. When we acquired the former printing facility of the Bangor Daily News in 2015, Lyndon moved in to help supervise all of the renovations that began in 2016 in addition to all of his other duties.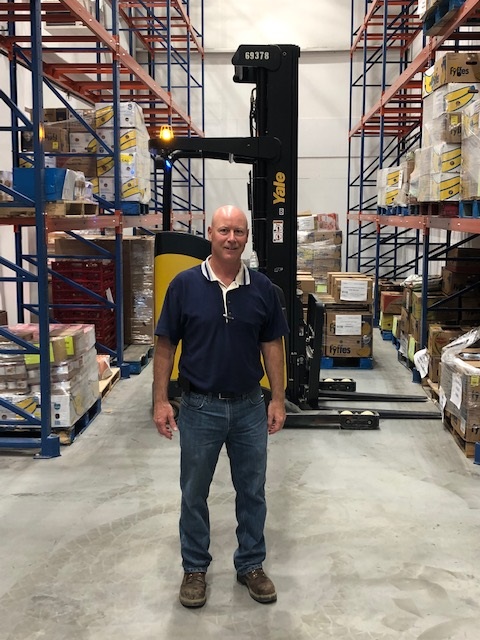 With over 23 years of experience as a parts and service manager for construction equipment and car dealers, Lyndon understands how to get things where they need to go quickly and efficiently. He was good at what he did but the ups and downs of the economy and the aggressive nature of the parts business inspired him to make a career change. "I had always been involved in coaching kids. When a friend who ran a group home for youth ages 9-19 called me and asked if I would consider becoming a supervisor, I jumped at the chance. About a year and a half into it, I got the opportunity to become the program manager which was terrific," Lyndon explains.
The experience in the group home provided the fulfillment he was longing for but when Lyndon learned that we were seeking a Distribution Center Manager, he saw an opportunity to put his years of logistics experience to productive use. "Working here is a dream job for me," Lyndon says. "I love coming to work and I feel good about what I do."
What Lyndon does is about to get even more satisfying when our Hampden distribution center becomes fully operational this September. Presently, Lyndon and his team are working around a team of contractors while facilitating 6-10 pickups from local food pantries in the Bangor area along with 8-20 deliveries to other pantries on GSFB trucks each day. The installation of industrial size cooling units will enable the Hampden facility to become a hub for local farms instead of a delivery point for our Auburn facility. "Once we get rolling, we'll be bringing in fresh produce directly from the farms instead of having it shipped here from Auburn," Lyndon explains. "That's going to cut down on the time it takes for us to receive fresh produce and add 3-5 extra days to the shelf life at the food pantries we serve. That's a really big deal."
Indeed.
Once a fresh fruit or vegetable has been picked, the clock starts ticking. Refrigeration is the only element that can preserve flavor and freshness so the units that will soon be installed in Hampden are the key to the facility's effectiveness. Presently, the fresh produce we receive in Hampden is stored in refrigerated trailers in the facility's parking lot. They do the job but they're narrow and inefficient. Lyndon and his crew are looking forward to the day when they can have trucks back up to their loading dock. From there, the team will use forklifts to transport the pallets of fresh fruits and vegetables from the trucks into our coolers where they can be safely inspected and stored until Lyndon can develop a pickup/delivery plan for the pantries he serves.
Lyndon has two drivers making deliveries to local pantries five days a week. When their trucks are empty, the drivers stop at supermarkets and farms to pick up donated items and bring them back to the Hampden facility for distribution. "I don't think a lot of people truly understand the scope of what Good Shepherd Food Bank does," Lyndon says. "We're moving truckloads of quality, nutritious food every single day along with pallets of personal care items like toothbrushes and toothpaste that really help people. Then there are the programs like Cooking Matters and all the things we do for kids and seniors that are totally separate from what we do in the distribution centers but just as important. Our staff cares a lot and we deal with amazing people on a daily basis who all have the same desire to help others – from the people who volunteer in our facilities to the volunteers in the food pantries, everyone is committed to doing their part to end hunger in Maine."
Thanks to the generosity of businesses and donors throughout the state, we're less than $1 million away from fully funding the $5 million cost of renovating our Hampden distribution center. If you'd like to help us make more deliveries of nutritious food to more pantries throughout the state, please click here to make a donation to our Food for All campaign.