Maine's Good Shepherd Food Bank Hires for Public Policy and Research and Annual Giving Officer
AUBURN, Maine – Good Shepherd Food Bank is pleased to announce its recent hire of Amy Regan Gallant, who joins as the new vice president of public policy and research, and Robin McCarthy, who joins as an annual giving officer.
"It is my honor to work for Good Shepherd Food Bank," stated Amy Regan Gallant, vice president of public policy and research. "I believe that public policy has a great capacity for social change in Maine, particularly when those who are most impacted by the policies are connected with the decision-makers. I am so pleased to be working with this incredible organization."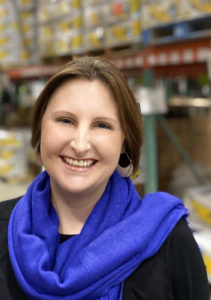 Gallant was previously employed by AARP Maine as their advocacy director and built the successful Tuesdays at the State House constituent engagement program. She began her career at Preble Street, a social services organization in Portland, Maine, and oversaw the Maine Hunger Initiative, Healthcare Outreach to Veterans, and Homeless Voices for Justice. This summer, she organized a Fourth of July "Welcome Picnic" for newly arriving asylum seekers.
Gallant is a volunteer with The Prouty, the Eastern Trail Alliance, and is a volunteer board member of Portland Ovations. She graduated from Saint Anselm College with a BA in Politics, New York University with an MS in International Development, and lives in South Portland with her husband, daughter, chickens, and bicycles.
"I'm thrilled to join Good Shepherd Food Bank in this new position focused on a multi-faceted annual giving program. This is such a deeply respected organization, and I'm delighted to have this opportunity to help end hunger with the donors, agencies, and community members who make it such a success," stated Robin McCarthy, annual giving officer.
With nearly a decade of nonprofit experience, McCarthy appreciates connecting people with the issues and values that matter most in their communities. She has been honored to work for some truly impactful organizations that enrich lives in Maine and beyond.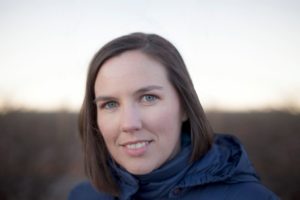 McCarthy comes to the Food Bank most recently from Maine Public, where she oversaw the direct marketing program for the statewide public media station. Previously, she was the Director of Donor Engagement at Sustainable Harvest International and has held positions with environmental and literary organizations as well. McCarthy has volunteered with groups addressing hunger, domestic abuse, gender discrimination, and climate change, and is active on the board of Main Street Bucksport, the community development organization in her adopted hometown. She's an avid reader and lives with her husband, Elias, and their dog, Lulu. The three of them enjoy hiking, boat rides, and road trips together.
For more information, please visit www.feedingmaine.org.
###
About Good Shepherd Food Bank:
As the largest hunger-relief organization in Maine, Good Shepherd Food Bank provides for Mainers facing hunger by distributing nutritious food to more than 400 partner agencies across the state, including food pantries, meal sites, schools, and senior programs. Together with its network, the Food Bank leads a statewide effort to combat the root causes of hunger by engaging in advocacy, nutrition education, and strategic partnerships. In 2018, the Food Bank distributed more than 25 million meals to families, children, and seniors in need throughout Maine.
Contact:
Jessica Donahue
Marketing and Communications Manager
Good Shepherd Food Bank
jdonahue@gsfb.org or (207) 782-3554