Meet Misty Coolidge, United Service Ambassador
Good Shepherd Food Bank is proud to introduce you to Misty Coolidge, our first Apple Corps Ambassador for the Food Bank. Recently crowned the national United Service Ambassador for the Worldwide USA Pageant system, Misty will be traveling the country volunteering at Feeding America food banks and helping to raise awareness for food insecurity.
"I'm elated and humbled to be the first-ever Good Shepherd Food Bank Apple Corps Ambassador, and I'm so excited to continue my mission of fighting hunger, not only here in Maine, but across the country this year," stated Misty Coolidge.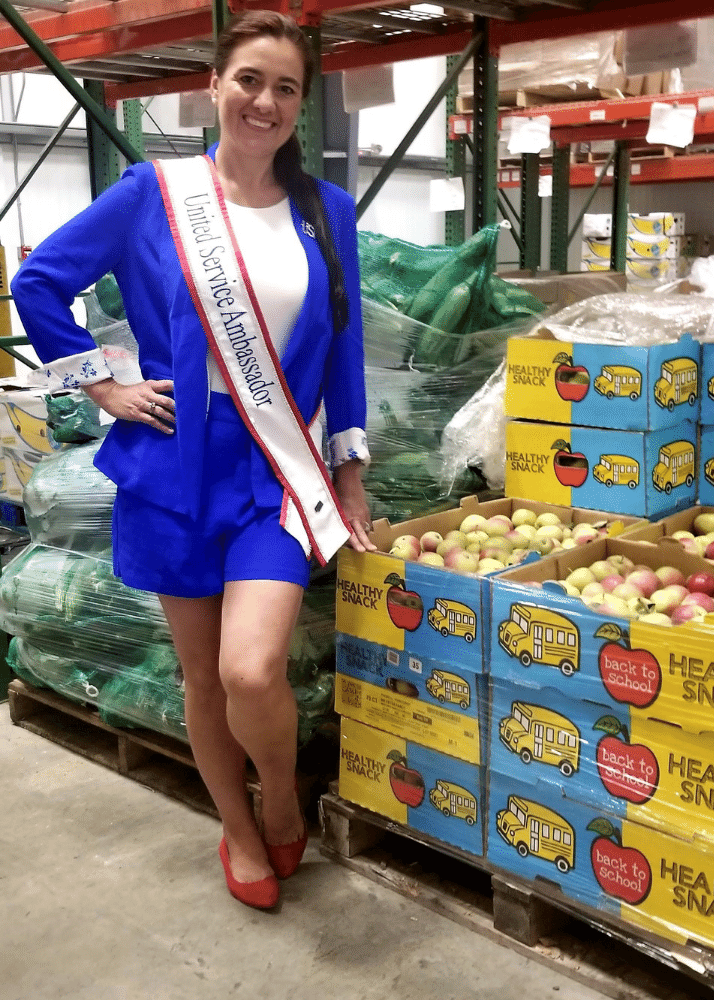 Misty resides in New Gloucester, Maine, with her husband Peter deBear, their three little ones, Eva and Caden (Age 6) and Grace (Age 4), and two rescue Labradors, Bruno and Anna. A peek into her life includes being a stay-at-home mom, the owner of two successful wedding businesses. Coolidge Family Farm, a wedding venue in New Gloucester located next to the famous Hodgman's Frozen Custard, and Maine Mixologists, a mobile bar service that travels statewide mixing up cocktails for events and weddings.
She also manages five properties, including a restored rundown chapel in Gray, renamed Coolidge Chapel, and redeveloped land behind her Farm with beautiful rental Cottages. When she's not being a serial entrepreneur, she serves on many community-focused boards of directors, including Gray/New Gloucester MSAD 15 School Board, Gray/New Gloucester Development Corp., Husson University's Board of Visitors, President of Kappa Delta Phi NAS, Kappa Lambda, Alumnae Association. Misty is also a member of 100 Women Who Care of Southern Maine and the International Society of Female Professionals, as well as a proud supporter of the Coolidge Foundation (did we mention she's related to Calvin Coolidge?).
Throughout her 26 years of serving her community in numerous ways, one constant cause has been fighting hunger throughout the state of Maine. Growing up, she was raised by a single mom who worked hard to provide for her and her siblings. Still, she recalls her mom using food stamps and making trips to the local bread store to get 'yesterday's bread at a discount,' and she knows the feelings of insecurity and embarrassment that come from needing to stand in the free hot lunch line at school. Misty created her "Helping Hands for Hunger" mission to crush hunger for those reasons and so many others.
She spends her spare time at Good Shepherd Food Bank's Auburn Distribution Center sorting food and packing boxes, and she hosts annual fundraising events to fight hunger at her Farm and Chapel. Her recent Quilt Auction raised $3,000! Misty started her own 5K for, and the next 5K will be held at her Farm on the morning of October 31, if you're interested in participating. You can find more information on her "Running of the Brides 5K for Hunger" Facebook page, to be published soon.
Due to her level of service, Misty was crowned the national United Service Ambassador on June 18 in Omaha, Nebraska, for the Worldwide USA pageant system. Her mission this year will expand countrywide, where she'll visit Feeding America food banks to share her story and volunteer at the food banks. This week, her immediate destinations include New York (where she's walking in New York Fashion Week), California, Nevada, Chicago, and Georgia. With 43 million Americans (including 13 million children) fighting hunger across our country, the need is more significant than ever, and she cannot wait to get started.
If you're interested in following Misty's journey, you can find her on Facebook @USAunitedserviceambassador or follow along by visiting the Ambassador tag in the Latest News section of the Food Bank's website.