New to Business in Maine, Moark Makes an Early Impact With Egg Donation
Auburn, ME – Moark, LLC, the company that recently acquired Quality Egg in Turner, has donated a trailer load of eggs to Good Shepherd Food Bank to be distributed to hunger relief organizations across Maine. The donation consisted of 19,440 dozen eggs, or 233,280 individual eggs.
Moark is a subsidiary of Minnesota-based Land O'Lakes, Inc., and took over operations of the Maine egg facilities in November 2011. "Moark is committed to being a good neighbor and corporate citizen in Maine and everywhere we operate," said Craig Willardson, President of Moark. "The egg donation is one way we can contribute to the community and help alleviate hunger – the centerpiece of Land O'Lakes' corporate philanthropy efforts."
Food insecurity continues to rise across the country and here in Maine. Nationwide, demand on hunger relief organizations is up 46 percent over the past four years. In Maine nearly 200,000 individuals are facing hunger, including one out of every four children.
"As we see the need for food continue to grow, now more than ever it's important for businesses to step forward as leaders in the community," says Clara McConnell, spokesperson for Good Shepherd Food Bank. "This donation from Moark is not only important in that it will provide essential nutrition for Mainers struggling with hunger, but it's important in the message that it sends – that by working together, businesses and nonprofits can make a big impact."
Willardson added: "The egg donation was a first step in contributing to the Maine community. Going forward, we'll contribute in other ways as well, while providing employment and support for Maine's economy through our operations."
Land O'Lakes and the Land O'Lakes Foundation provide more than 12 truckloads of products annually to locations where the cooperative has members, plants and employees, as well as providing more than $4 million in cash and products to our communities annually, of which $2 million is directed to help alleviate hunger in the U.S.
For statistics on poverty and hunger, media inquiries, photos, or interview requests, please contact Clara McConnell at (207) 782-3554 or cmcconnell@gsfb.org.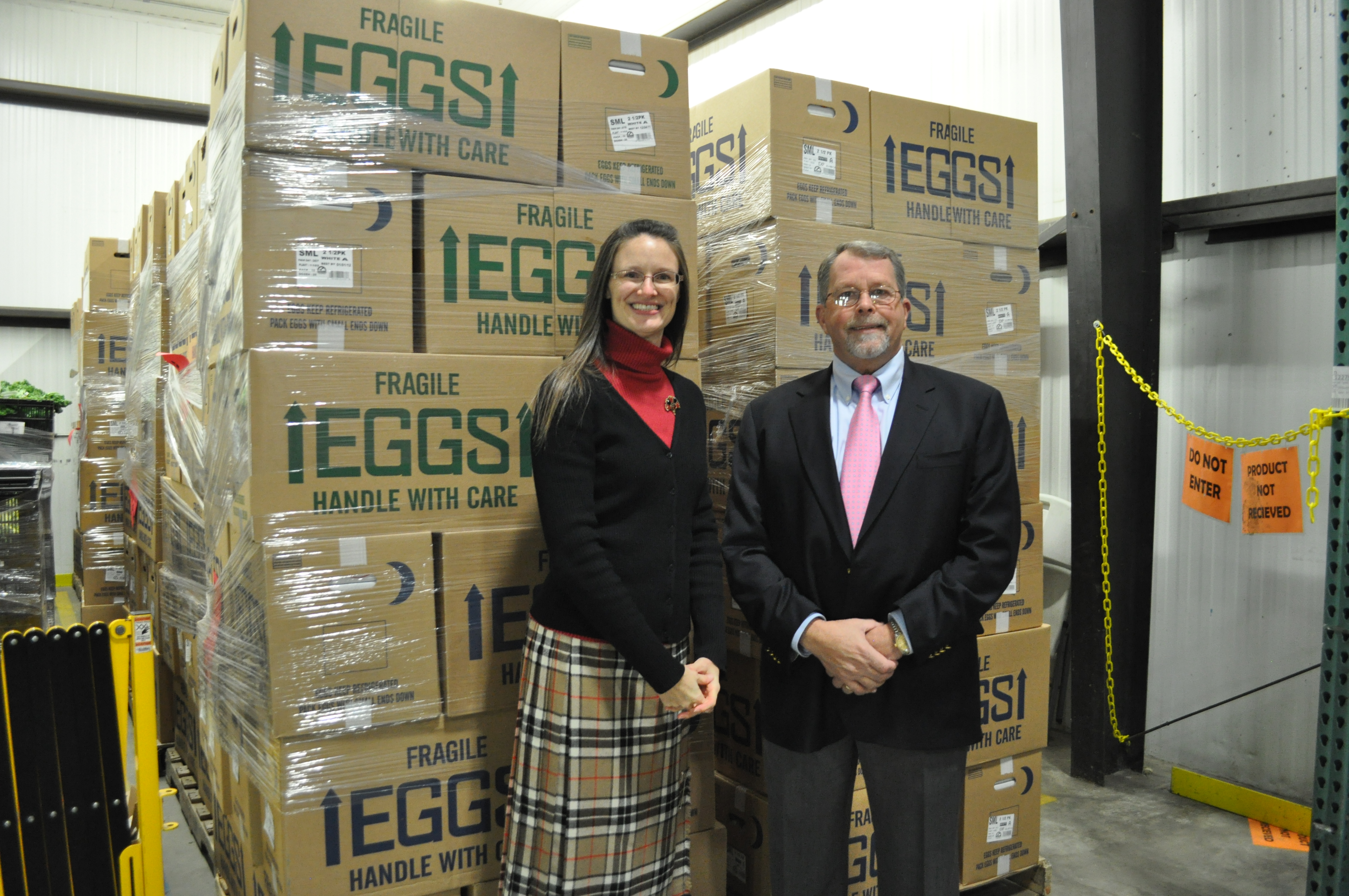 Skip Hagy of Moark, LLC, and Barbara Lauze, Food Resource Developer for Good Shepherd Food Bank are shown with some of the 19,440 dozen eggs (or 233,280 individual eggs) Moark donated to the food bank. Moark recently took over operation of egg facilities in Turner, Maine.
About Good Shepherd Food-Bank
The largest hunger relief organization in Maine, Good Shepherd Food-Bank provides for those at risk of hunger by soliciting and distributing surplus food to more than 600 partner agencies. Since 1981, the Food-Bank has partnered with individuals, businesses and farmers to alleviate hunger and build community relationships. In 2011 the Food-Bank distributed 12.5 million pounds of food to families and individuals throughout Maine. Web site: www.gsfb.org. Phone: (207) 782-3554. Facebook: www.facebook.com/feedingmaine Twitter: www.twitter.com/feedingmaine
About Moark, LLC
Moark, LLC (a division of Land O'Lakes, Inc.) is America's premier marketer, distributor, processor and producer of fresh shell eggs. We deliver a full spectrum of top quality products to retail, industrial and foodservice customers coast-to-coast. More so, our expert knowledge of the egg industry and national scope enables us to offer innovative, value-added services that help our customers succeed in their businesses.
About Land O'Lakes
Land O'Lakes, Inc. (www.landolakesinc.com) is a national, farmer-owned food and agricultural cooperative with 2010 sales of $11 billion. Land O'Lakes is the nation's second-largest cooperative. The company does business in all 50 states and more than 60 countries. It is a leading marketer of a full line of dairy-based consumer, foodservice and food ingredient products across the United States; serves its international customers with a variety of food and animal feed ingredients; and provides farmers and ranchers with an extensive line of agricultural supplies (feed, seed, and crop protection products) and services. Land O'Lakes also provides agricultural assistance and technical training in more than 25 developing nations. For more information about Land O'Lakes, Inc., visit www.landolakesinc.com, Facebook www.facebook.com/landolakesinc and/or Twitter @landolakesinc.