Ocean State Job Lot Donates Tractor-Trailer Load of Food to Good Shepherd Food Bank
AUBURN, ME. (September 14, 2017): Ocean State Job Lot, a discount retail chain headquartered in North Kingstown, R.I., made a donation to Good Shepherd Food Bank today as part of the 2017 Ocean State Job Lot Charitable Foundation "Three Square Meals" hunger relief program.
A tractor-trailer full of approximately 35,000 lbs. of food arrived at the Food Bank's Auburn headquarters this morning along with representatives from Ocean State Job Lot. Maine has five Job Lot stores in Oxford, Sanford, Rockland, Belfast, and Bangor.
"We're so thankful for this generous donation from Ocean State Job Lot's Three Square Meals program," said Kristen Miale, president of Good Shepherd Food Bank. "The reason Good Shepherd Food Bank is able to distribute more than 25 million pounds of food a year is due in large part to our partnerships with retailers like Ocean State Job Lot. Their support is critical to our mission of ending hunger in Maine."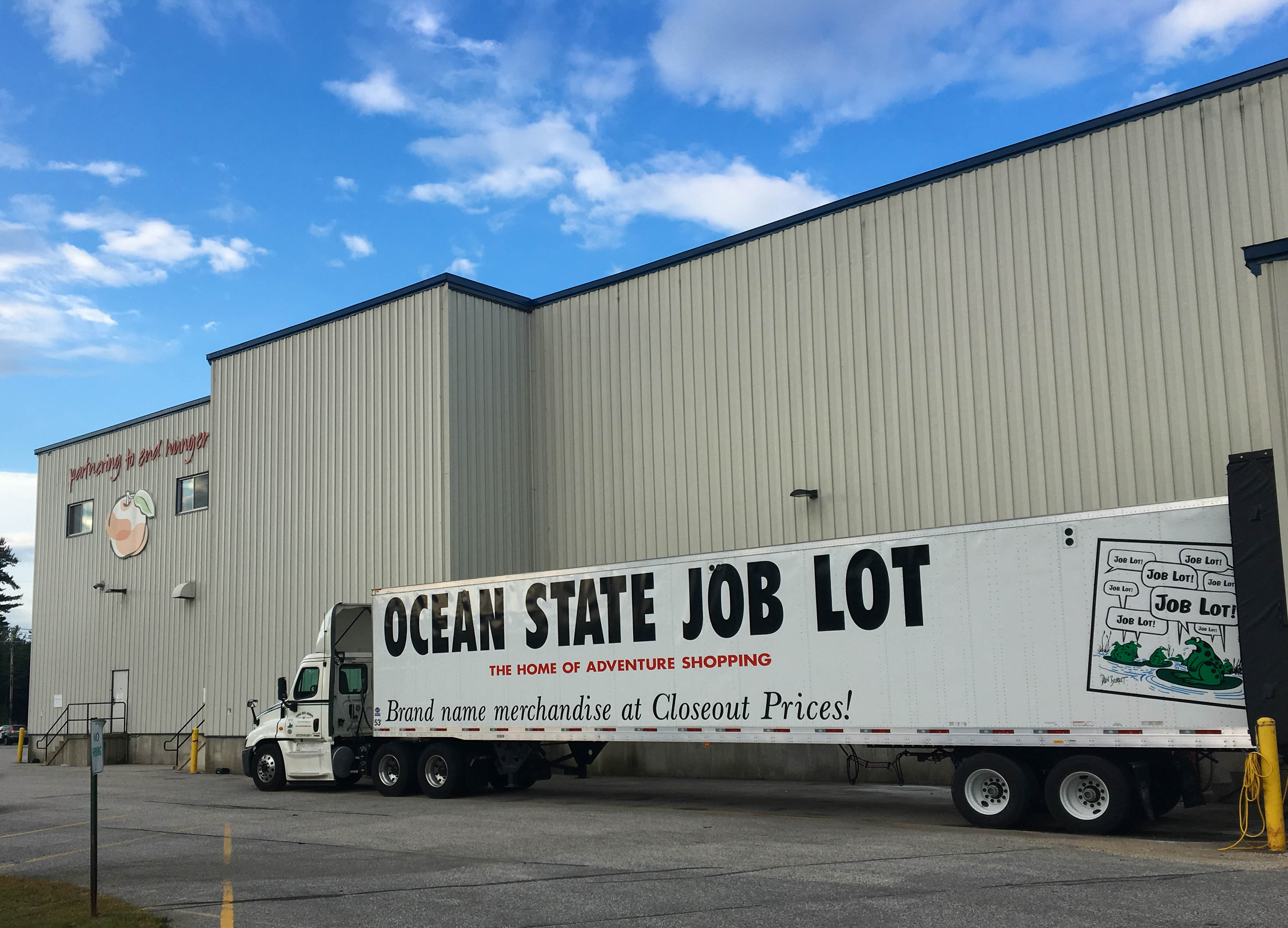 In addition to Good Shepherd Food Bank, donations were made to hunger relief programs throughout the Northeast. Three Square Meals is the single largest food donation program of its kind in the region.
The program distributes more than 200 tractor trailer loads of food throughout the year to 19 food banks and pantries which, in turn, distribute to thousands of soup kitchens and meal sites across six New England states, and New York and New Jersey, including: Rhode Island Community Food Bank (Providence, RI), Connecticut Food Bank (Wallingford, CT), Foodshare (Bloomfield, CT), Gather (Portsmouth, NH), New Horizons For New Horizons, Inc., (Manchester, NH), Nashua Soup Kitchen and Shelter, Inc., (Nashua, NH), Society of St. Vincent DePaul (Exeter, NH), New Hampshire Food Bank (Manchester, NH), Food Bank of the Hudson Valley (Cornwall-on-Hudson, NY), Worcester County Food Bank (Shrewsbury, MA), Food Bank of Western Massachusetts (Hatfield, MA), Good Shepherd Food Bank (Auburn, ME), Vermont Food Bank (Barre, VT), Boston Medical Center Food Pantry (Boston, MA), Greater Boston Food Bank (Boston), Long Island Cares (Hauppauge, NY), NORWESCAP (Phillipsburg, NJ), Fulfill Monmouth & Ocean (Neptune City, NJ), Community Food Bank of New Jersey (Hillside, NJ), and the Regional Food Bank of Northeastern New York (Latham, NY).
Today, the first delivery of food for this year's program was made via convoy of 22+ tractor trailer trucks each loaded with approximately 35,000 pounds of nutritious, shelf-stable food, marking the initial installment of a total 8 million pounds of food delivered throughout 2017-18. This is the equivalent of 10.4 million meals.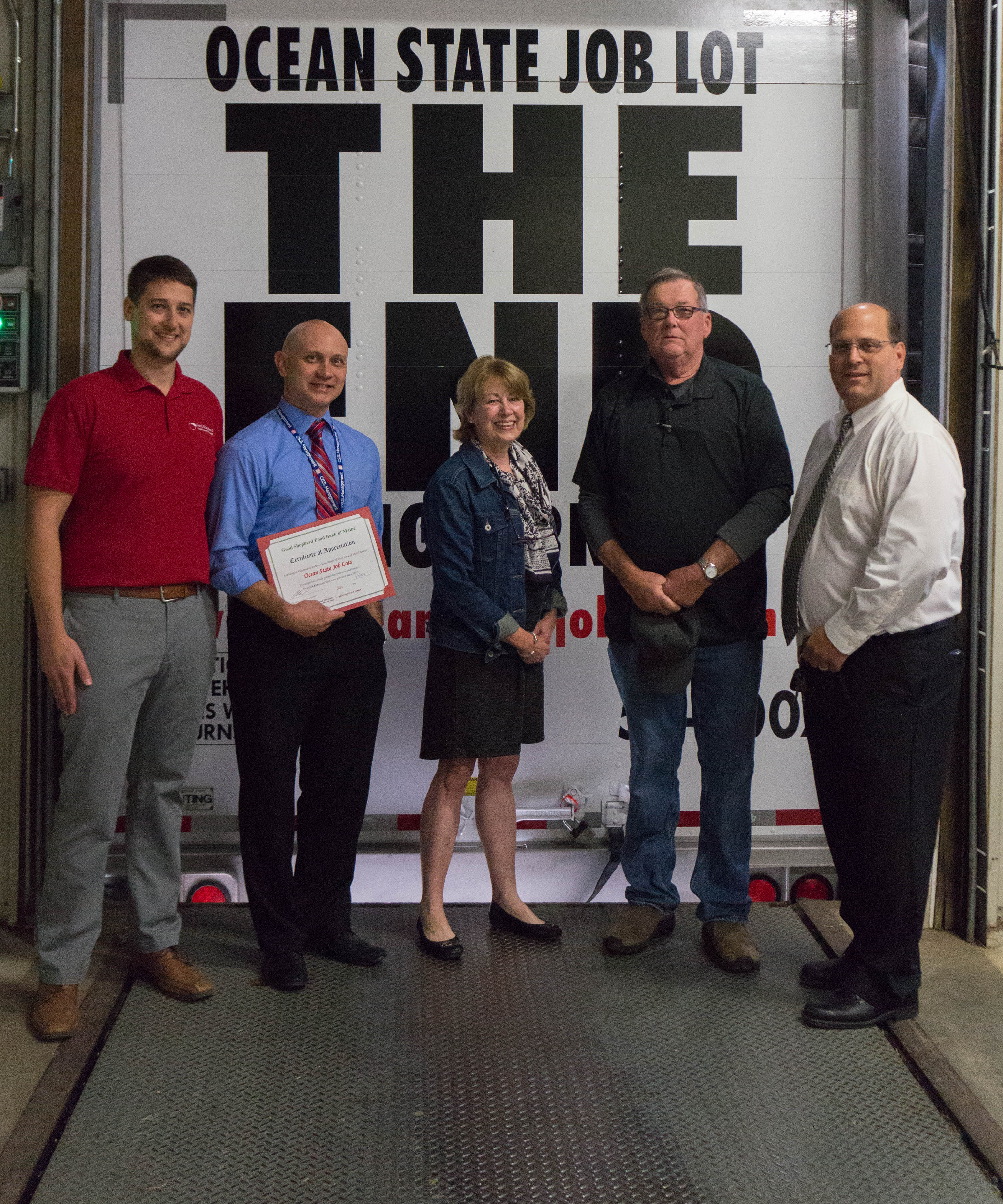 Funds for Three Square Meals are raised between November and December through a combination of in-store customer donations at the register, contributions from the business community, and matching funds from the Job Lot Charitable Foundation. Job Lot then leverages its wholesale buying power and retailing expertise to purchase food at significant value. It also donates the cost of operational support, including delivery, insurance, warehousing, fuel, labor and other expenses to ensure that 100% of every dollar raised goes to the plate to help families and individuals in need. Food items to be distributed include pasta, cereal, canned vegetables and fruit, soup, canned tuna, dried beans, rice, and more.
Now in its 14th year, the Three Square Meals program is supported by business and food partners, such as Kellogg's, Bob's Red Mill, Polar Beverages, Bank of America, Arbella Insurance, McLaughlin & Moran, Sodexo, Atlas Pallet and Boston's Best Coffee Roasters. Media sponsors are ABC6, iHeart Radio, Latina 100.3 FM, and WBLQ AM 1230.
Ocean State Job Lot Co-Founder Alan Perlman recognizes the contributions and generosity of the company's valued customers. "Three Square Meals was developed to feed the hungry near our stores and we partner with organizations that can alert us to the needs of the communities and help us get the food to them," he said. "This program is a meaningful way to bring together our friends and neighbors to address the issue of hunger, and to raise awareness that this a problem affecting our state, region and nation. Everyone who participates can help feed thousands of families. I am grateful to those involved and very proud of what we are all able to do on a large scale throughout the region."
# # #
Now in the 40th year of its founding in 1977, Ocean State Job Lot is a growing, privately held retail chain with 127 stores in New England, New York, and New Jersey, approximately 5,000 employees, and annual sales exceeding $700 million. Job Lot sells brand name, first quality merchandise at closeout prices. Shoppers find an ever-changing array of household goods, apparel, pet supplies, seasonal products (holiday, gardening, patio, pool and beach supply), and kitchen pantry staples at a fraction of their typical price. The company was named by Forbes Magazine as a "Top Midsize Employer" in the country. The Ocean State Job Lot Charitable Foundation has a long history of philanthropic leadership, placing emphasis on local food banks in communities where Job Lot operates stores. The Foundation also supports medical and literacy initiatives, disaster relief efforts, the performing arts, our military service men and women, and special needs and foster children. Ocean State Job Lot is headquartered at 375 Commerce Park Road in the Quonset Point Business Park, North Kingstown, RI 02852. Phone: (401) 295-2672; Web: http://www.oceanstatejoblot.com