Professional Hockey Returns to Maine and Nets $5K for Hunger Relief
When the Maine Mariners opened their inaugural season last October, they did a lot more than end a two-year professional hockey drought in the state of Maine. They made a commitment to helping Good Shepherd Food Bank at every single home game with a fun promotion sponsored by Backyard Farms and Portland Pie Company. Inspired by the "chuck-a-puck" promotion that's popular at all levels of minor league hockey, the "Toss a Tomato, Win Some Dough" campaign entertained thousands of fans at all 36 home games during the 2018-19 season:
First, let's make one point clear – no ACTUAL tomatoes were tossed during this promotion. As our VP of Development Erin Fogg's son Ike demonstrates in the photo below, the "tomatoes" were individually numbered, foam stress balls shaped like tomatoes.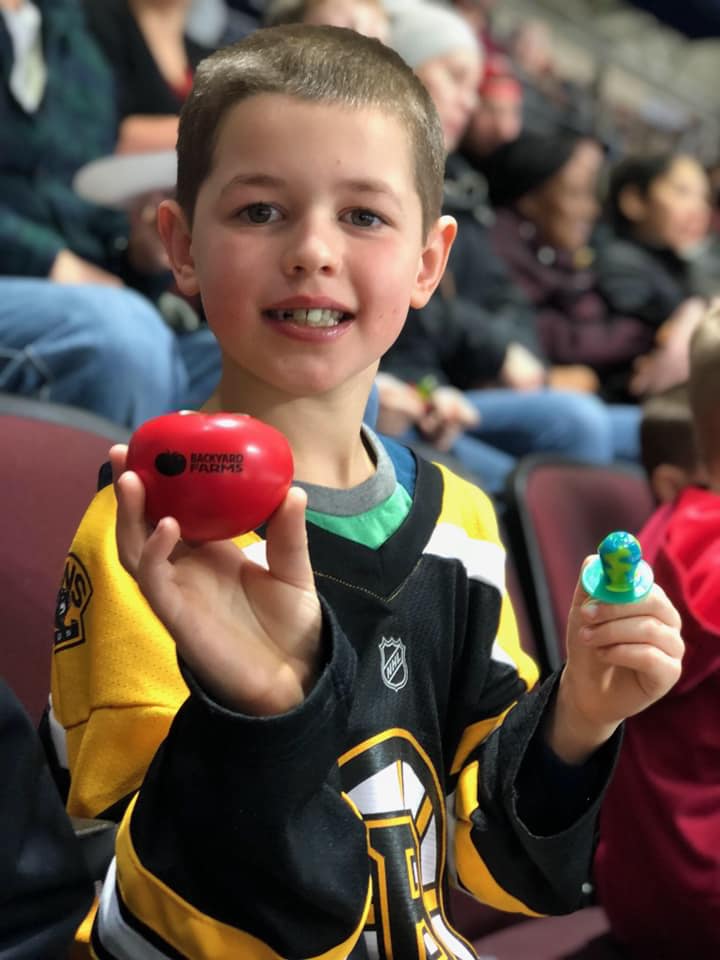 These stress balls look just like the tomatoes co-sponsor Backyard Farms grows year-round at their 42-acre greenhouse in Madison, ME. A long-time donor of both fresh produce and funds to Good Shepherd Food Bank, Backyard Farms offered contestants the opportunity to win a free box of their amazing cocktail tomatoes for any tomato ball that landed in the red ring of the tomato target below:
If a contestant's ball landed in the green ring of the target above, they won a coupon for a large cheese pizza redeemable at any of co-sponsor Portland Pie's seven restaurants in Maine and New Hampshire. As you can see in the photo below, fans were pretty pleased about that!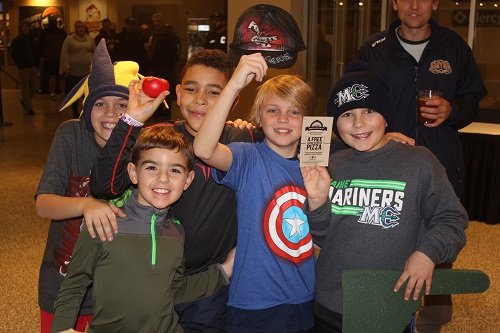 Of course free pizza wasn't the only dough up for grabs in the "Toss a Tomato, Win Some Dough" promotion. The contestant whose ball landed closest to the bull's eye at the center of the target won half the proceeds of all tomato balls sold during each game – a total cash prize of up to $500! Over the course of the season, 36 people from all over New England took home the cash and hundreds more won free tomatoes and cheese pizzas.
Best of all, a portion of the proceeds of every tomato ball sold was reserved for Good Shepherd Food Bank and on Friday, April 5, the Maine Mariners presented us with a check for $5,000!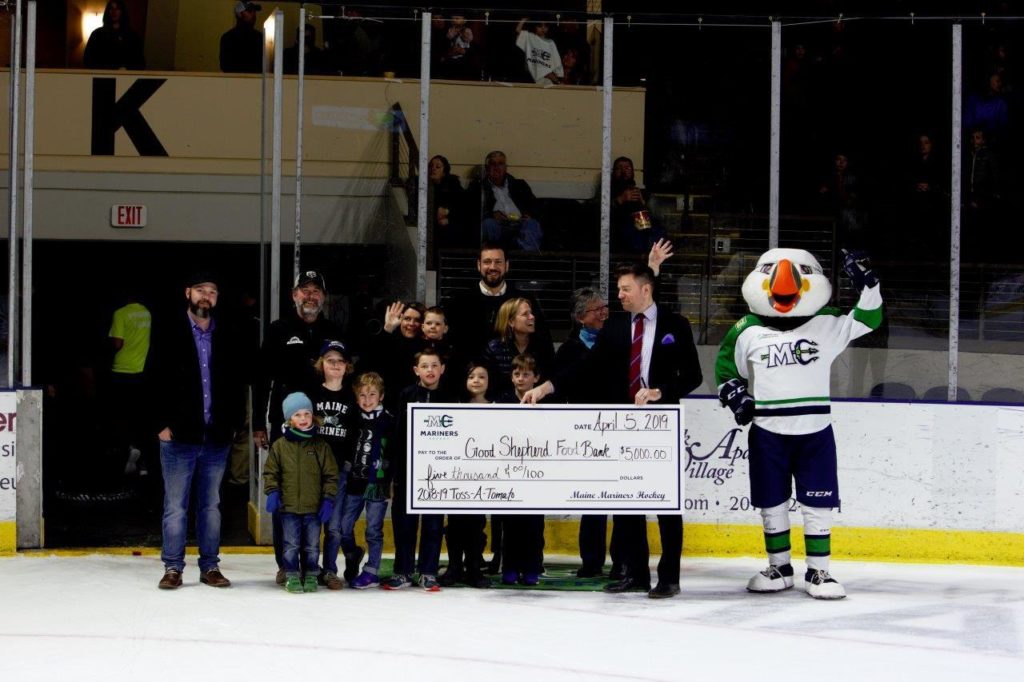 "We take as much pride in giving back to our community as we do in growing fresh tomatoes all year-round for supermarkets and restaurants like Portland Pie, so this campaign was a win for everyone," said Backyard Farms Assistant Grower Brady Sinclair.
"We feed people. It's what we do. Whether you're a paying customer or someone who has experienced food insecurity. It's our mission and the focus of our philanthropic efforts," said Jeff Perkins, Owner / CEO of Portland Pie Company. "We're proud to have worked closely with the Maine Mariners and Backyard Farms to help raise money this season for Good Shepherd Food Bank."
We appreciate both companies for sponsoring this promotion and we're especially grateful to the Maine Mariners for allowing us to benefit from it. Most minor league organizations run promotions like this to make much-needed money for the team, so this $5,000 donation says a lot about the Mariners' ownership and their commitment to fighting hunger in Maine. Congratulations on a great season and we'll see you on the ice next year!