Spring is in the air today, but as Mainers we know that, most likely, winter isn't done with us yet. Nonetheless, here at Good Shepherd Food Bank we are planning for the warmer months ahead.
This summer, Good Shepherd Food Bank will once again partner with Maine farmers and food producers to bring fresh, local foods to our most vulnerable residents through our Mainers Feeding Mainers program.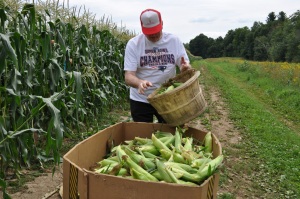 The facts are startling: one in four Maine children are not receiving the nutritious food they need to learn in school and live a healthy life. More than 15 percent of Maine families are struggling to put enough food on the table every day. Our state is facing many challenges right now that only add to the burden on families – rising fuel prices, high food prices, and continued high unemployment.
The problem of hunger in Maine is daunting, but Good Shepherd Food Bank is committed to finding a solution. And an important part of that solution comes from the formation of lasting partnerships with Maine's farmers.
In 2011 we distributed over a million pounds of local food to families in need. Of that food, more than 600,000 pounds was comprised of fresh fruits and vegetables grown right here in Maine.
This year, with your help, we can do even more.
Please help us provide more fresh, nutritious, local foods for Maine's most vulnerable residents. Give today >>