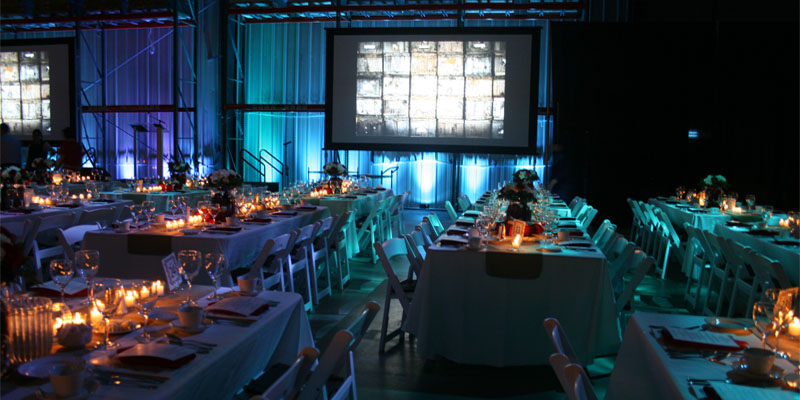 ---
Each year Good Shepherd Food Bank has the distinct honor of selecting the JoAnn Pike Humanitarian Award recipient and presenting the award at our annual Humanitarian Dinner. The award is named after our founder JoAnn Pike, who started a food bank in her home in 1981 to provide food for her neighbors in need. It is because of JoAnn's remarkable dedication and passion to serve others that the Good Shepherd Food Bank has grown from serving a few neighbors, to now distributing 25 million pounds of food annually throughout the entire state.
2018 Honoree – Bangor Savings Bank
We are pleased to announce Bangor Savings Bank as the 2018 JoAnn Pike Humanitarian honoree.  Bangor Savings Bank has a long history of investing in Maine – in its people and its communities.   Through their business resources that spur local innovation, to charitable gifts that help transform community organizations, to countless volunteer hours given by their employees each year, Bangor Savings Bank lives out their motto that Community Matters More.
Bangor Savings Bank has been a loyal friend and generous supporter of Good Shepherd Food Bank as well as our state-wide network of partner agencies.  Their creative Peanut Butter & Jelly Drive, helps us raise awareness of the hunger issue and provides food donations to pantries in every community where Bangor Savings has a branch.
Past Award Recipients
The spirit of our beloved founder and her altruistic generosity lives on through the many supporters who offer their talents, resources and hearts to help feed Maine's hungry. A JoAnn Pike Humanitarian Award recipient is an individual or organization whose charitable efforts have not only helped to end hunger in Maine, but whose leadership and commitment to the non-profit community has enriched the lives of Mainers throughout the state.
 2017 Honoree – Hannaford 
"It's difficult to calculate Hannaford's impact on hunger relief efforts in Maine and across their footprint – their support is immeasurable," said Kristen Miale, president of Good Shepherd Food Bank. "It's safe to say that the Food Bank would not be the organization we are today without Hannaford. We're honored to give this award to Hannaford in recognition of decades of community support."
Hannaford has formalized its community efforts under a program called "Hannaford Helps." Under this program, the company donates several million dollars a year and provides in-kind support to schools, hospitals, children's programs, community wellness initiatives, and more.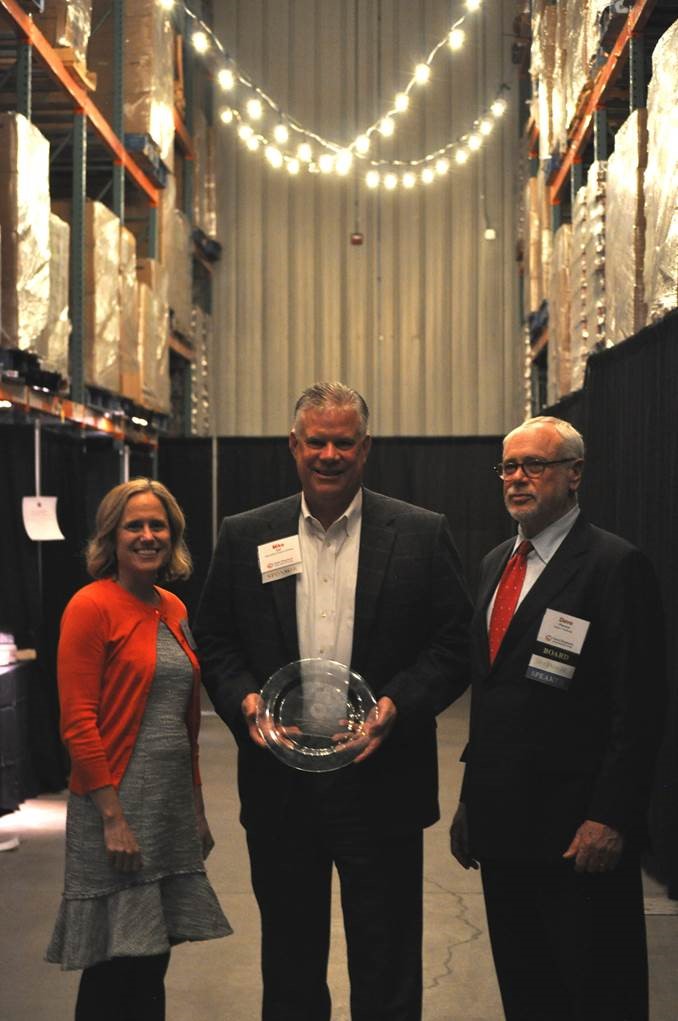 Hunger-relief is the core of the Hannaford Helps program. In 2016, Hannaford donated more than 25 million pounds of food to food pantries, meal programs, and food banks across its five-state footprint. Nonperishable food is donated to regional food banks, including Good Shepherd Food Bank, throughout the year. In addition, Hannaford stores make daily donations of fresh food, such as produce, meat, and bread to local food pantries.
Hannaford has been working with regional food banks and pantries to further improve systems for recovering harder-to-handle fresh items, making sure that there can be regular pickups and ensuring pantries have the processes and equipment to handle that food safely.  The company has either donated or helped pantries and food banks purchase vans, refrigerated truck trailers, refrigeration units, and other equipment.
"Hannaford Supermarkets is honored to be recognized for the strong partnership we have maintained with Good Shepherd since its founding 35 years ago and our company's deep commitment to fighting hunger here in Maine," said Hannaford President Mike Vail.  "This relationship is built on the passion of current and retired Hannaford associates who believe that no one should go without the nutritious food they need."
2016 Honoree – David Pierson, Eaton Peabody
The 2016 JoAnn Pike Humanitarian Award was given to David Pierson, attorney at Eaton Peabody. Pierson, a board member since 1997 and current chairman at Good Shepherd Food Bank, demonstrates over and over again his passion for solving the problem of hunger here in Maine.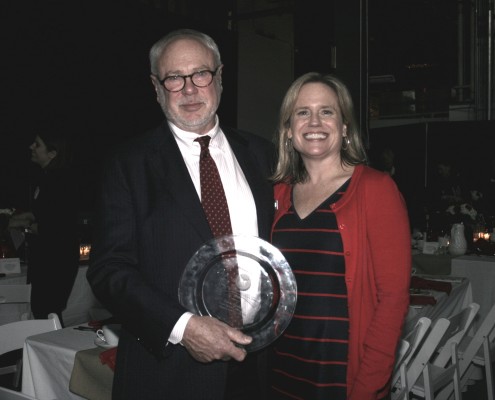 Pierson spent the first 15 years of his career owning and operating a construction company. The company's project portfolio included notably Thomas Moser Cabinet Makers factory in Auburn. In addition, Pierson oversaw the construction of the Food Bank's 52,000 s.f. warehouse facility as head of its building committee. A practicing attorney since 1993, Pierson has been named among the Best Lawyers in Maine by his peers in the area of construction law since 2007. He serves as corporate counsel to the Maine Chapter of the Associated Builders and Contractors and Homebuilders and Remodelers Association of Maine.
Pierson has numerous memberships and affiliations including member of the Maine State Bar Association, member of the American Bar Association's Construction Industry Forum, director of Auburn Business Development Corporation, director of Lewiston Business Development Corporation, and director and immediate past president of the Maine Bar Foundation.
2015 Honoree – Bill Williamson, Bank of America
The 2015 JoAnn Pike Humanitarian Award was given to Bill Williamson, Maine Market President for Bank of America. Bill possesses an outstanding level of commitment to supporting Maine people and communities. His dedication to fighting hunger makes him a perfect fit for recognition. 
Williamson describes himself as an ardent supporter of efforts to end hunger in Maine. Working with Good Shepherd Food Bank and other hunger relief organizations, he contributes expertise to assist with advocacy, fundraising and strategic planning. Williamson serves as Bank of America's leader in Maine and focuses on integrating Bank of America business lines across the state. He also directs the company's local corporate social responsibility
program, which includes philanthropy, community development, environmental initiatives, diversity efforts, arts and culture projects, and volunteerism.
Williamson is a board member of Educate Maine, the Maine State Chamber of Commerce, the United Way of Greater Portland, and the Alfond Scholarship Fund. Previously, he worked in the field of education as Director of Development for Phillips Academy in Andover, Massachusetts and Vermont Academy in Saxton's River, Vermont.
2014 Honoree – Maine Credit Union League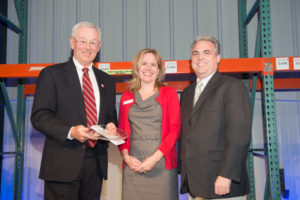 The 2014 JoAnn Pike Humanitarian Award was presented to Maine's Credit Unions on April 3, 2014 at the Food Bank's warehouse in Auburn. Through the Credit Unions' Campaign for Ending Hunger, Maine's credit unions have been a leader in the fight against hunger for many years, in addition to supporting numerous other charitable causes throughout the state.
Maine's credit unions and their members have raised more than $5 million dollars to help end hunger in Maine since 1990 through the Campaign for Ending Hunger.  One hundred percent of all money that is raised through the campaign stays in Maine and goes directly to assist thousands of Maine families and individuals who otherwise would go hungry.
2013 Honoree – Bob Moore, Dead River Company
The 2013 JoAnn Pike Humanitarian Award was given to Dead River Company for its outstanding commitment to serving the people of northern New England, especially in the areas of hunger relief and fuel assistance.
Through its Share the Warmth charitable giving program, Dead River has made a commitment to giving back to the community with a primary focus on food and heating assistance.  Over the past two years, the company donated over $250,000 in food and heating assistance, including providing the needed funds for Good Shepherd Food Bank to purchase a tractor trailer truck.
As a strong advocate of education, Dead River Company supports Junior Achievement of Maine, Jobs for Maine Graduates, Maine College Circle, the Foundation for Maine's Community Colleges, and Educate Maine.  As a believer in the benefits they bring to a community, Dead River Company has long sponsored  the arts, including programming at the Portland Museum of Arts, Portland Ovations, Maine State Music Theatre, Houlton Community Arts Center and both the Bangor and Portland Symphony Orchestras.  Throughout its northern New England footprint, Dead River Company also supports myriad local nonprofits in the many communities it serves.

2012 Honoree – Mike Dubyak
Mike Dubyak, Chairman and CEO of Wright Express, received the 2012 JoAnn Pike Humanitarian Award.
Dubyak and Wright Express have made a commitment to giving back to the community through both financial contributions and volunteerism. With over 600 employees in the greater Portland area, Wright Express is a vocal and visible ally for the less fortunate in Maine.
The company has established employee-and corporate-directed grant programs, an employee dollar/volunteer matching program, and is a major sponsor of the United Way. Wright Express' philanthropy programs focus on feeding both body and soul through gifts for basic human needs and the arts. The company takes an active leadership role in Maine and funds organizations that promote economic and personal development and educational opportunities. Wright Express has been supporting the Food Bank's mission of ending hunger in Maine since 2003.
2011 Honoree – Albert Lepage and Andy Barowsky
Albert Lepage is the Chairman, and Andy Barowsky, the President and CEO, of Lepage Bakeries. Albert Lepage and Andy Barowsky have been active in supporting education, health services, and the arts.
Albert Lepage has served on the boards of directors at L/A Arts, the Portland Symphony, the United Way of Androscoggin County, Hebron Academy as Vice-Chairman and Treasurer, and St. Mary's Health System as Chairman.
Andy Barowsky has served as President of the Auburn-Lewiston YMCA board of directors and as a member of the Central Maine Healthcare board. He currently serves on the Gulf of Maine Research board of directors and is Vice-Chairman of the Dominican University of California board of trustees.
2010 Honoree – Lawrence A. Wold
Larry Wold is Maine Market President for TD Bank.
Larry has 24 years of commercial lending experience in Maine. Prior to his current position, he served as TD Bank's Executive Vice President of Commercial Lending, Southern Maine Region. Larry joined the company in 1991 as a Commercial Loan Officer. He began his banking career in the commercial lending department of Casco Bank, the Maine affiliate of the Bank of Boston.
Larry is an active member of the community. He currently serves on the Boards of the Maine State Chamber of Commerce, the Greater Portland Regional Chamber, the Maine Real Estate Development Association, Maine & Company, and the Maine Association of Community Banks' Executive Committee. His is past President of the Maine Real Estate Development Association and a past board member of Friends of Casco Bay. He has been involved in the Southern Maine fundraising community for many years.
2009 Honoree – David Barber
Chicken is in David Barber's blood. He has lived and breathed the family business his entire life, starting as a young child going into work with his father Gus, who founded Barber Foods over 55 years ago with his wife Marjorie. He joined the company full time in 1981 after receiving a Bachelor's degree in Marketing from Babson College in Wellesley, MA.
In David's current position as Executive Vice President, he plays an integral role in multiple areas of the business in addition to his focus on Sales and Marketing. David helps to insure that his late father Gus' legacy of an unshakeable commitment to quality and service continues.
Barber Foods is committed to sustainable practices by investing in their workforce, growing their community, and maintaining facilities that minimize the impact to the environment. They donate over 1 million meal servings to food-banks annually and they are the single largest provider of protein in the entire state to the Good Shepherd Food-Bank. Over $2 million of product has been donated to Good Shepherd in the past six years alone. In addition, Barber Foods donated over $1 million each year to charitable organizations combating hunger and creating a better community.
2008 Honoree – Ronald C. Hodge
Ronald C. Hodge is former President and Chief Executive Officer of Hannaford and was with the organization for over 28 years. He was appointed CEO of Delhaize America Operations in 2009.
Throughout his impressive career with Hannaford & Delhaize America Operations, Ron has proven to be a true civic leader, spending time, resources and energy supporting organizations such as the United Way, the YMCA, the Red Cross, the Salvation Army, the MS Society, the Kidney Foundation, the American Heart Association, and Maine Medical Center.
Ron has received numerous awards for his charitable spirit, including the 1995 Humanitarian of the Year Award from the Center for the Disabled and the Capital District YMCA's 1997 Citizen of the Year. Here in Maine, Ron has chaired annual fundraising efforts for the American Heart Association and Kidney Foundation, and served on the board of Maine Medical Center and the Food Marketing Institute.
It was under Ron's leadership that Hannaford's contribution to the Good Shepherd Food-Bank grew to nearly six million pounds of food per year. He has been a crucial partner to our work – helping us to feed over 36,000 hard working Mainers each month who otherwise may not know where their next meal would come from.