Culturally Relevant Food in the Hands of Mainers in Need
In the wake of COVID-19, Good Shepherd Food Bank pivoted its operations and began distributing pre-packed boxes of shelf-stable foods to support food pantries in implementing low-touch distribution models. The Food Bank ordered shelf-stable food by the tractor-trailer load, buying products that are common to most Maine households—but we soon heard that our one-size-fits-all approach was not meeting the needs of Mainers of Color. Our product mix was lacking foods that were culturally relevant to Black, Indigenous, and Latinx communities in Maine.
We quickly developed a new Community Redistribution Fund to provide grants directly to grassroots organizations led by and primarily serving Black, Indigenous, and People of Color to source and distribute culturally relevant food. We awarded $150,000 to 18 organizations doing incredible work across the state. One example of the great work happening across the state with help from this fund is by Mano en Mano.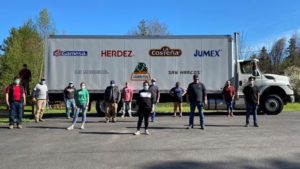 Mano en Mano works with farmworkers and immigrants to help them thrive in Maine. The organization envisions a more inclusive Downeast Maine where the contributions to diverse communities are welcomed; access to essential services, education and housing are ensured; and social justice and equity are embraced.
Through the Food Bank's Community Redistribution Grant program, Mano en Mano was awarded $10,000 to support the distribution of culturally-specific boxes of food both for families that live year-round in the region and for migrant workers who arrived in May for blueberry and seafood processing.
With the funding, they saw the opportunity to partner with Maine Seacoast Mission, another local nonprofit partner, and Vazquez Mexican Takeout, a local restaurant. Vazquez quickly ordered food from Boston and Maine Seacoast Mission provided volunteer and logistics support, as well as space to store the food until the pick-up and delivery day. Downeast Community Partners also provided each family with a $50 Hannaford gift card. Maine Seacoast Mission also leveraged existing resources like meat, bread and local vegetables that were already part of its Downeast Food Pantry, and managed the online ordering process so people got exactly what they wanted. Through this partnership program, Mano en Mano distributed 165 boxes of food to 347 people.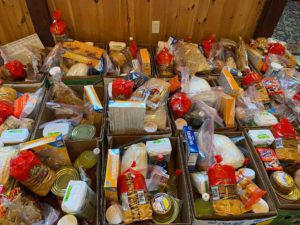 "It wasn't our first partnership with Maine Seacoast Mission, and it was so helpful having this partnership because we don't have the capacity to store all the food. It was great to provide food for families, and we also added additional things in the box like meat and bread and hygiene products. It was good for the community members to go to the Mission and get their food there to establish a relationship. Sometimes it's hard to make the referrals, and it was good that it was their first introduction there. Now they feel comfortable picking up food there," said Juana Rodriguez-Vazquez, migrant education director at Mano en Mano.
Once the Community Redistribution Fund grant was awarded, it was a fast turnaround because the restaurant was already purchasing its regular inventory order and the distributor was able to come to Milbridge to drop off the food. Their goal was to stretch out the funds to serve as many people as possible. At the distribution, community members mentioned that it's hard to cook authentic dishes when there are specific ingredients that you need. Often it's challenging to try and replace it with a substitute. They were delighted to have food to cook with that reminded them of home. "For future donations, it would be good to have Maseca. The Mission mentioned having cornmeal, but that's not the same as Maseca—you can't make tortillas with that," explained Rodriguez-Vazquez. "Corn flour is something different than Maseca."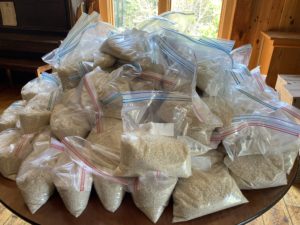 "It was fairly unique that we collaborated with one of the Food Bank's existing partner food pantries and that is a highlight for us. We are excited to keep partnering with the Mission to ensure culturally relevant foods are available to the whole community when they are in need, not just white people," said Ian Yaffee, executive director of Mano en Mano. "We look forward to the opportunity to do this again, especially during different times of the year when we welcome migrant workers into our communities and need support after a long journey here.
"We don't see this as charity," continued Yafee. "We are filling a gap that wouldn't exist if people were paid a living wage. But right now, we see an additional gap where distribution networks for have been disrupted, and it isn't as safe to travel to cities where that food is sold."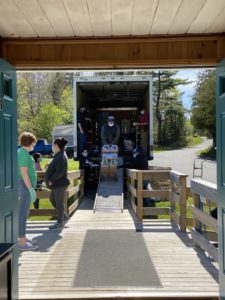 "The Mission was honored to be a collaborative partner in the Mano en Mano food distribution that supported our Latinx community members. The food that Mano en Mano purchased with the Good Shepherd Food Bank grant included items that we have never had in our pantry or in our area. The Mission supplemented the boxes with meat, produce, baked goods and tomato seedlings planted in a container. This project strengthened the Mission partnership with Mano en Mano and increased our ability to serve the Latinx community better," said Wendy Harrington, director of service programs at Maine Seacoast Mission.
One of the Food Bank's core values is inclusion, yet we have not, until this fund launched, developed programs that are responsive to communities of color. We acknowledge the Food Bank has been and continues to be ill-equipped to source many culturally-specific foods. We recognize this, and are committed to correcting it. While we work intentionally to build relationships with those that have been excluded from our network, this fund has created an immediate mechanism to redistribute resources to those communities and we plan to continue Community Redistribution Fund grants moving forward.
To learn more about the Community Redistribution Grant, go here.