Leading Change: A blog series celebrating Kristen Miale
Opening the Hampden Distribution Center
On the heels of setting a bold 10-year goal to close Maine's meal gap by ensuring all Mainers have access to enough nutritious food, Kristen Miale and her team found themselves in 2015 on the hunt for real estate in the greater Bangor region. Kristen knew that for the problem of hunger to get smaller in all regions of the state, the Food Bank's meal distribution needed to get bigger while becoming more efficient and equitable.
The Food Bank historically operated out of an Auburn-based distribution center with a small outpost in Brewer. While the organization was reaching all 16 counties, a second, centrally located distribution center would make getting more food to all parts of the state much more efficient. It would also build the Food Bank's own capacity to meet its bold goal of distributing more than 30 million meals by 2025—an inventory level that exceeded the capacity of the Auburn headquarters. Moreover, hunger-relief partners in parts of the state most impacted by hunger, like Downeast and northern Maine, would be better served by a facility closer in proximity.
Enter the former Bangor Daily News printing facility, which was on the market and is now home to the Food Bank with three state-of-the-art temperature- and humidity-controlled cold storage units, vast freezer space, ample dry storage space for shelf-stable products, and areas for packing and distributing food.
The Food for All capital campaign to fund the building purchase and renovation took just over three years. More than 900 donors were inspired as Kristen shared her vision for the future and came together to fund the building renovation, including gifts as small as $1 up to one million dollars. The new Hampden-based distribution center was dedicated as the Hannaford Center to honor the retailer's transformational role in donating both food and funds since the Food Bank's founding.
As community members toured the new distribution center at a grand opening event in September 2019, Kristen remarked how the facility was for our future as she motioned toward shelves and racks that were still empty.
She shared that over the next six years the building would be filled as we grew our food distribution from what was then 25 million meals annually to over 30 million meals to meet our bold goal by 2025. No one knew at the time that within six months Maine would be gripped by the COVID-19 crisis, and the shelves would be filled. As it turns out, the second distribution center opened just in time.
Three and a half years and millions of meals later, the Hannaford Center in Hampden is a vibrant and critical resource for the organization now operating at its planned capacity. In addition to the physical space for more food, the Food Bank modernized its inventory management system, committed more resources to delivering food to communities, and strategically partnered with new organizations like schools, hospitals, and regional food centers to get more of the right food to the right places, when and where it is needed. Volunteers flow in and out of the Hampden location, just as they do in Auburn, working alongside staff to pack boxes of food that contribute to the health and well-being of Mainers experiencing hunger.
Today, it is hard to imagine a time when the distribution center in Hampden did not exist, but it took time, resilience, hard work, and a strategic vision to make the facility and its purpose a reality. Kristen carried that vision for the Food Bank, sharing it with community leaders, donors, partners, and vendors. It was a journey of learning and growing that would only continue as the Food Bank soon confronted one of the most challenging moments in its history: the COVID-19 pandemic.
Please join us in celebrating
Kristen Miale.
Leave a message of well wishes as she departs the organization on June 30, or make a gift to Good Shepherd Food Bank in her honor.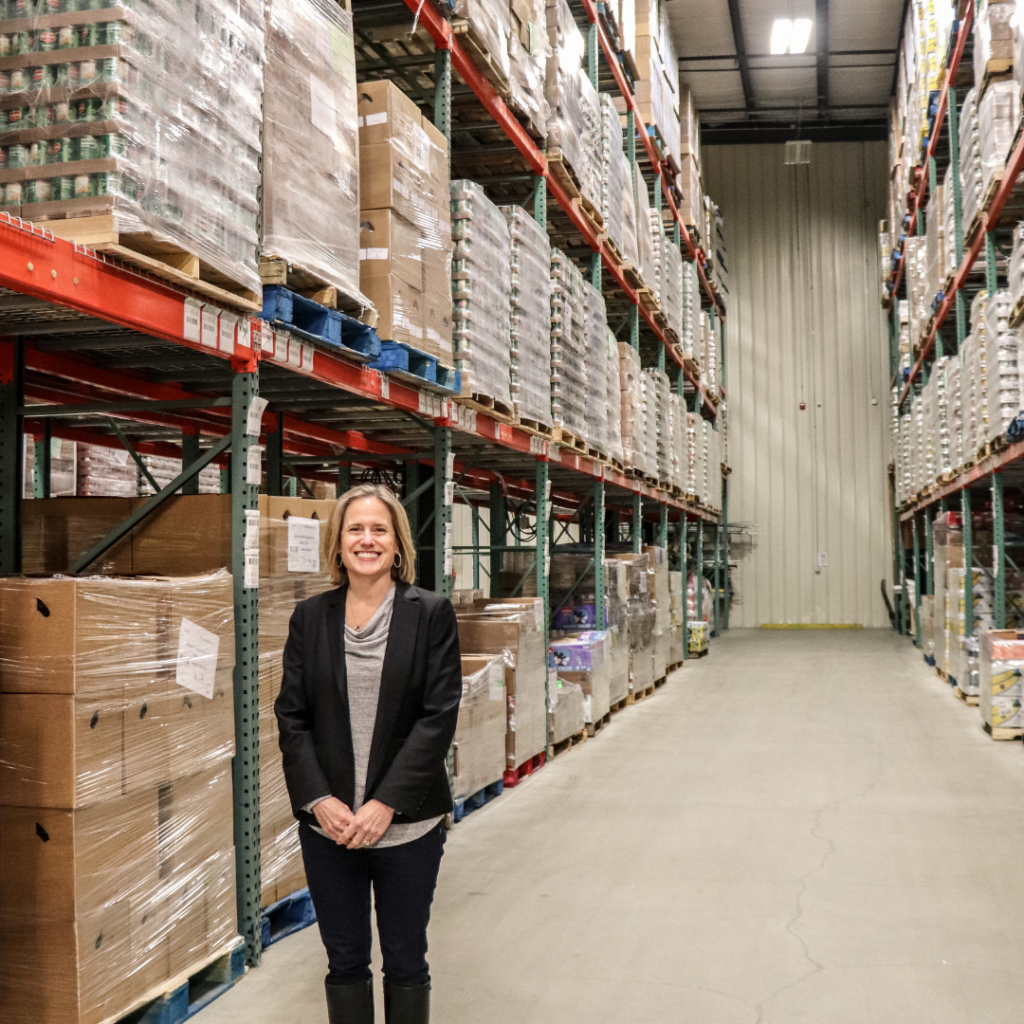 This is the third of five posts in our Leading Change: A blog series celebrating Kristen Miale.